Spotlight On:
OpenStack Yoga is Here!
The OpenStack community recently released Yoga, the 25th version of the world's most widely deployed open source cloud infrastructure software. Yoga highlights include support for advanced hardware features such as SmartNIC DPUs, improved integration with cloud-native software such as Kubernetes and Prometheus and reduction of technical debt to maintain a stable and reliable OpenStack core.
OpenStack, the open infrastructure-as-a-service standard, is the one infrastructure platform for deployments of diverse architectures—bare metal, virtual machines (VMs), graphics processing units (GPUs) and containers. Over 12 years, the OpenStack project has maintained a consistent harmony between release stability and a steady pace of new use cases and technical innovation. With more than 25 million cores in production and over 180 public cloud data centers worldwide running OpenStack, the community has steadily integrated new technologies like Kubernetes over the project's history, with more than 560,000 changes from over 8,700 contributors merged since 2012.
Thank you to over 680 contributors from 125 different organizations who contributed to the OpenStack Yoga release!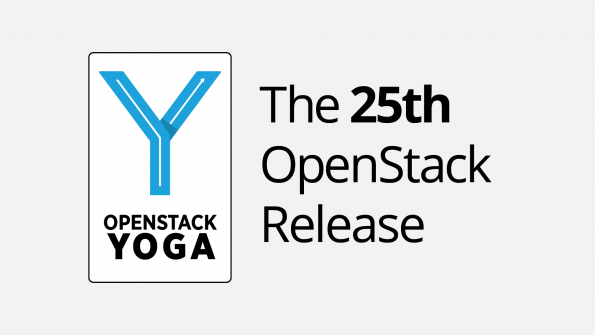 The

OpenInfra Summit

is in two months!
Upcoming episodes on

OpenInfra Live

, the online series sharing production case studies, open source demos, industry conversations, and the latest updates from the global open infrastructure community!
If your organization would like to join the OpenInfra Foundation in building the next decade of open infrastructure,

schedule time with Jimmy McArthur

.
Airship: Elevate your infrastructure
Running or evaluating Airship? We want to hear from you! Take the brief

User Survey

to provide the community with feedback.
Kata Containers: The speed of containers, the security of VMs
Check out Kata sessions at the OpenInfra Summit Berlin!
OpenInfra Labs:
The Telemetry WG has reorganized to become the Telemetry SIG within the Operate First key development activity. See

Marcel Hild's announcement

for further details and their new meeting schedule.
OpenStack: Open source software for creating private and public clouds
If you hadn't already heard,

Yoga is here

!

The Technical Committee passed

a resolution on adjustment on release cadence

. The TC will designate major releases in a tick-tock arrangement, such that every other release will be considered to be a "tick" release. Along with existing 6 month cycle upgrade (tick->tock or tock->tick), two-cycles yearly upgrade will be supported between tick releases. For details, please refer to this doc.

OpenStack Operators are planning an in person meetup the week of the Summit on Friday. Keep an eye on the OpenStack Operator twitter handle for more details to come.
StarlingX: A fully featured cloud for the distributed edge
The

Technical Steering Committee(TSC) election

dates are now set! There are 2 seats up for (re-)election. If you would like to run as a candidate or be able to vote you need to be an active contributor to the project; you still have time to

get involved

before the nomination period starts in May!

The community is having sessions to deep dive into the 7.0 release cycle activities and plan ahead for the 8.0 release roadmap. You can read more details about the discussions on the team's etherpad. Stay tuned for a more detailed article about the outcomes of the event on the StarlingX blog!
Running or evaluating StarlingX? We want to hear from you! Take the brief User Survey to provide the community with feedback.
Zuul: Stop merging broken code
Zuul 5.2.0

has been released to address a security vulnerability.

Zuul 5.2.2

was released shortly after to address a bug in 5.2.0. Users should review the release notes for both releases and upgrade to 5.2.2.

Planning for the next major Zuul release has begun. You can read about planned changes to Ansible isolation in a

recently merged spec

.

Join us at the Open Infra Summit in Berlin. There are a number of sessions covering Zuul which you can find on the schedule.
Hear from the Organizations Supporting the Foundation
Who's hiring?
Check out the latest job openings from our members!
Welcome!
The OpenInfra Foundation wishes a warm welcome to its newest OpenInfra Gold Member: VEXXHOST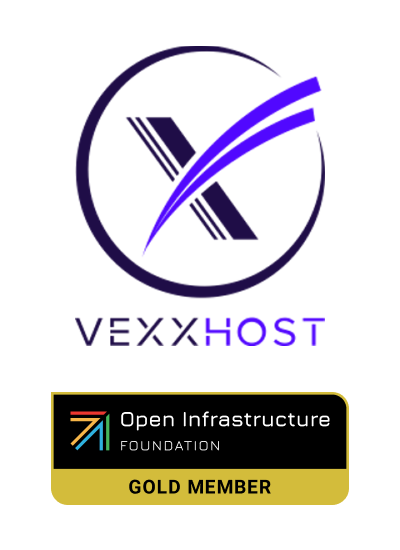 Get OpenStack Training!
Check out the available Beginner & Intermediate trainings from our members!
Red Hat

99 Cloud

Canonical

Mirantis

VMware

AWCloud
Upcoming OpenInfra and Community Events
Looking for local or global events? Check out what OpenInfra community events are coming up! For more information about OpenInfra community events, please contact [email protected]
Questions / feedback / contribute
This newsletter is written and edited by the OpenInfra staff to highlight open infrastructure communities. We want to hear from you! If you have feedback, news or stories that you want to share, reach us through [email protected] . To receive the newsletter, sign up here.
A huge thank you goes out to the sponsors of the OpenInfra Summit Berlin!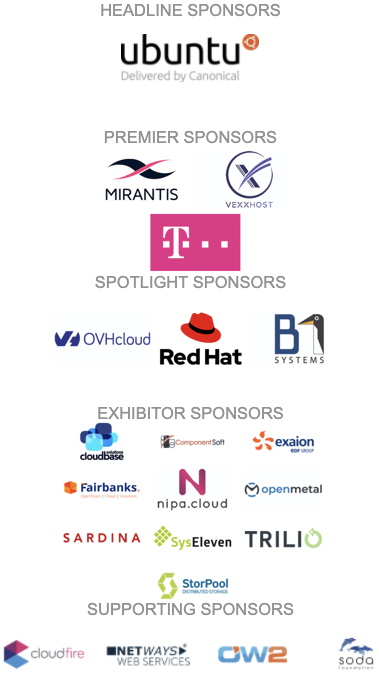 Latest posts by Helena Spease
(see all)