LOS ANGELES — In an ant colony,  members work together to create a thriving superorganism that's exponentially more powerful than any single contributor. The same can be said for open source where vast networks of global members are transforming technology, science and culture.  This is one of the most striking takeaways from the first Open Source Summit held recently in Los Angeles and hosted by the Linux Foundation.
Hundreds of open-source enthusiasts, developers and end users gathered to discuss the principles of open source and how they can be applied to foster collaboration, innovation and solve real- world problems like the amount of water bottles that end up in the ocean. Under the umbrella Open Source Summit, the conference organized content into five sub-events: CloudOpen, ContainerCon, LinuxCon, the Open Community Conference and the Diversity Empowerment Summit.
Jim Zemlin, executive director of the Linux Foundation, kicked off the event and acted as emcee for the keynotes. Setting the stage for the Summit's theme "inspiration everywhere,"  Zemlin hit on the explosive growth of open source.
"Open source isn't growing – it's actually accelerating exponentially in terms of its influence in technology and society," Zemlin said, citing 23 million open source developers worldwide and 41 billion lines of code to back up his point.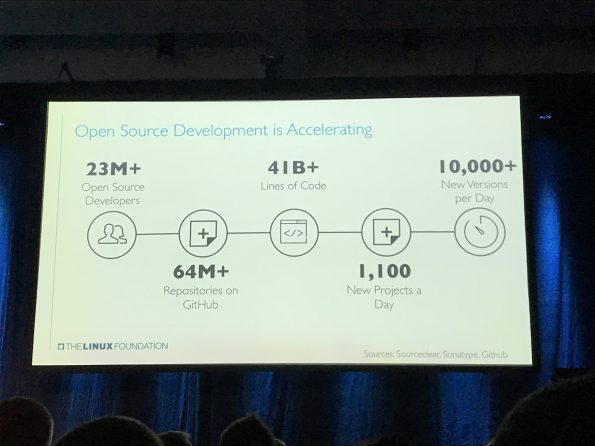 You can't have such an explosive growth of open source without a few challenges, however. Zemlin said the biggest bottleneck to open source growth in organizations is that they don't know how to participate in open source. Employees need training on how to thrive in the "colony."
"Projects with sustainable ecosystems are the ones that matter," Zemlin said. "Successful projects depend on members, developers, standards and infrastructure to develop products that the market will adopt."
How to build and measure success in open source 
After establishing the what—organizations must be involved and contributing to open source in order for the project to be successful—Zemlin answered the how by introducing the Open Source Guides for the Enterprise. Developed with the TODO Group, this resource includes best practices on starting with open source in your organization, including how to create an open source program and tools for managing open source.
To gauge the success of these open source initiatives, Zemlin also announced the Linux Foundation's newest project, CHAOSS, Community Health Analytics Open Source Software.
New project CHAOSS working on community health metrics and code https://t.co/ZEsmyUtmi1 #opensource #ossummit pic.twitter.com/fz9aqfR9QS

— Mike Dolan (@mdolan) September 11, 2017
Achieved through collaboration of multiple organizations and communities like the OpenStack Foundation, Bitergia, Mozilla, the University of Missouri and more, CHAOSS will focus on creating analytics and metrics to help define community health.
Grow a community, not a crowd
On Tuesday, Joseph Gordon-Levitt, director, entrepreneur and most familiar to tech folks for his recent role in  "Snowden," took the keynote stage to talk about the parallels between open source culture and his online collaborative production company HitRecord.
Although some of his insights were more focused on the entertainment industry, Gordon-Levitt made two key relatable points about growing a functioning community: Instead of thinking about the crowd, think about community, and instead of socializing, collaborate.
Joseph Gordon-Levitt sharing how working together fosters a new type of creativity at #ossummit @EventsLF pic.twitter.com/bI5zTNvVz5

— Bill Stark (@bill__stark) September 12, 2017
"Every member of a community is a unique individual," he said. "The strength of a community is less about the quantity of people and more about the quality of people and their interactions."
Around collaboration, he said the strength of people connecting online to work towards a common goal, whether it's on HitRecord or GitHub—hitting on the importance of collaboration that Zemlin discussed the previous day.
"As we move forward in the future, what kind of impact will community have?" Gordon-Levitt said. "If people can do more than just connect but also collaborate, I start to feel optimistic about the future. It's not about about the capabilities of the technology, it's what the technology can help us do as human beings."
Zemlin and Gordon-Levitt merely set the stage for a week centered around the power of open source, collaboration and the power that a community can have, but breakouts throughout the week continued to share real examples of how what open source collaboration can achieve.
Nithya Ruff from Comcast and Duane O' Brien from PayPal presented the value of building open source departments within their own company, Joe Leaver from Mercedes-Benz Research and Development talked about the power of collaborating with a new open source partner, composure.ai to do research around autonomous driving and Chris Price from Ericsson discussed the value and impact of working with various open source communities like ONAP, OPNV and OpenStack to accelerate the shift from 4G to 5G networks.
For more about the inspiration of collaboration from the Open Source Summit, you can catch the lineup of keynote videos online and stay tuned on Superuser for more event coverage.
Cover Photo // CC BY NC
Latest posts by Allison Price
(see all)