In OpenStack's sixth and most comprehensive user survey, OpenStack showed its increasing maturity, with 60 percent of deployments in production compared to just 32 percent reported in our survey less than two years ago. The report, based on the late September 2015 survey, was released October 26 at the OpenStack board meeting and online.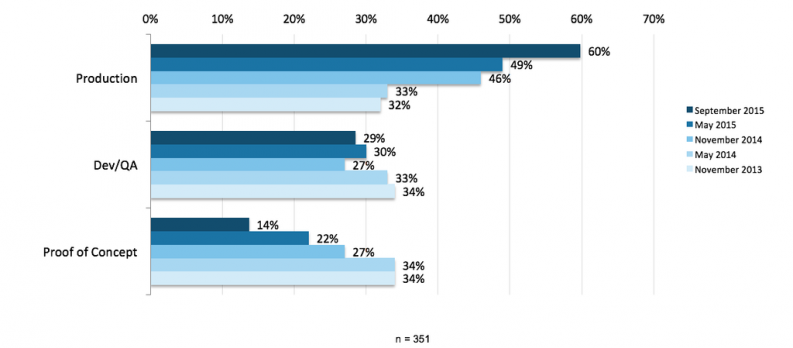 OpenStack deployments are increasingly mature, as more deployments move into production.
The 30-page report revealed extremely high rates of adoption of OpenStack's core services, with significant interest in more than a dozen additional projects, indicating future growth and adoption.
More than twice as many OpenStack users (1,315 in total) participated in this survey cycle. Their top business driver for choosing OpenStack is to accelerate innovation and compete by deploying applications faster. Most users indicated strong interest in emerging technologies such as containers, network functions virtualization (NFV) and platform-as-a-service (PaaS).
The flexibility of OpenStack's platform was exemplified by the top five block storage drivers eking out just a few percentage of adoption points over a veritable plethora of others, the proliferation of container systems and the continued rise of non-hypervisor drivers in use with Nova such as Ironic bare metal.

OpenStack evolves with each release. Most deployments run one of the three most current releases at the time of the survey.
As always, there are areas for improvement. Taking the biggest hits this round were Neutron, which was criticized for its complexity; Ceilometer, for its scalability; and documentation for a variety of issues. OpenStack's overall complexity remains a barrier to entry, with the "big tent" governance change creating confusion among many users and raising concerns about a lack of focus and coordination among services.
On the whole, OpenStack continues to be loved by users for its technology and its community, with dozens of comments lauding inclusiveness, access and support. OpenStack earned a Net Promoter Score of 25, substantially higher than the software industry average of 19. Among users with deployments in production, that score rockets to 43, putting OpenStack in the top tier for excellence.
The User Survey's goal is to better understand the attitudes, organizational profiles, use cases, and technology choices across the community's various deployment stages and sizes. Project-specific feedback was also provided to project leaders. The survey questions and report are guided by the OpenStack User Committee with the support of Foundation staff and an independent data scientist.
Read more by downloading the complete User Survey report for the Liberty cycle.
Cover Photo // CC BY NC
Latest posts by Heidi Joy Tretheway
(see all)