Spotlight on: 2021 OpenInfra Events
The OpenInfra Foundation has announced the schedule of upcoming episodes for its recently launched OpenInfra Live series of one-hour virtual events. OpenInfra Live is a weekly, live-streamed series of one-hour episodes featuring topics such as production use cases around open source projects like OpenStack, Kubernetes and Magma; industry leader conversations; and upstream development updates and roadmaps.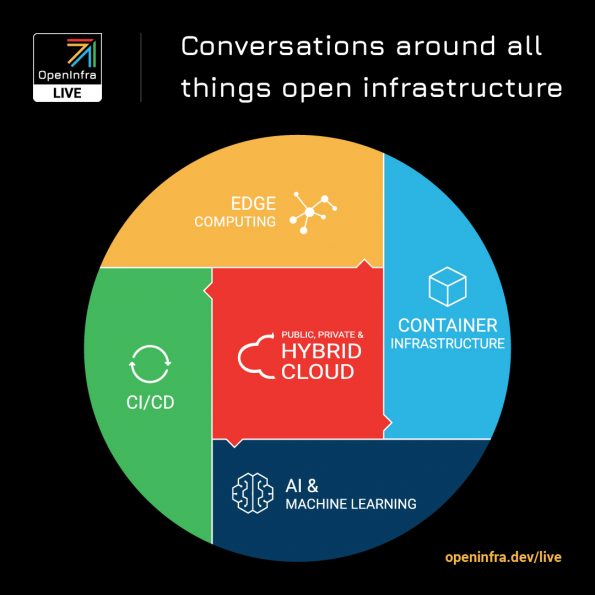 Upcoming Episodes
OpenInfra Live streams every Thursday at 14:00 UTC (9:00 AM CT) on the OpenInfra Foundation YouTube, LinkedIn and Facebook channels. Upcoming episodes will feature a range of topics, including Open Source 101, opportunities to connect hiring organizations with active community members, cross-project integration and collaboration stories, and timely topics like data sovereignty and artificial intelligence (AI). Mark your calendar and tune in to OpenInfra Live each week.
July 8: The Role of Open Source in Digital Sovereignty
Johan Christenson, CEO of CityNetwork, hosts a discussion around the role of open source in digital sovereignty between Pierre Gronlier, CTO of Gaia-X, Kurt Garloff, CTO at Sovereign Cloud Stack, and Linda Siwe, Chief Commercial Officer at Binero.
July 15: How OpenStack Large Clouds Manage their Spare Capacity
A panel of users running OpenStack in production will discuss and answer questions live.
July 22: Kata Containers Use Cases
The Kata Containers community is going to host AMD, Ant Group, and Huawei to share how they're running Kata and upstream contributors will provide an update on the project roadmap.
July 29: Kubernetes and OpenStack Working Together
The Kubernetes steering committee and OpenStack technical committee meet regularly to talk about cross-community learnings and collaboration opportunities. Join members of both governance bodies to ask questions about integration, cross-project support and how you can stay updated on the latest developments.
Present your ideas to the Global Community 
Community submissions drive the programming for OpenInfra Live sessions, just as they drive programming for the Open Infrastructure Summits. Individuals from organizations around the world have the opportunity to submit episode ideas, volunteer to lead discussions and help the OpenInfra Foundation program the series. The deadline to be included in an August or September episode is Friday, July 16. Community members can contribute programming ideas for OpenInfra Live.
Airship: Elevate your infrastructure
The Working Committee and Technical Committees have combined into one Technical Committee! Join them at their new meeting time every other Monday at 1500 UTC.
Running or evaluating Airship? We want to hear from you! Take the brief User Survey to provide the community with feedback.
Kata Containers: The speed of containers, the security of VMs
Kata Containers 2.1.1 and 2.2.0-alpha0 are out! Download the source code and other details on

Kata Containers GitHub

!
OpenDev: Open Source Software Development at Scale
The OpenDev Gerrit instance

will be upgraded on July 18, 2021. There will be a short outage of the service in order to perform the upgrade. The IP addresses for this service will also be changed. If you need to update firewall rules now is the time to do that. More information can be found in the mailing list

announcement

.
OpenStack: Open source software for creating private and public clouds
Since the last round of technical elections we held in April, the Condorcet Internet Voting Service (CIVS) has made changes to their policies and now require those interested in voting in a poll run their site to opt in to their voting system.

If you do not do this, you will not receive a ballot even if you are an eligible part of the electorate.

Please make sure to use the email address you have supplied in Gerrit if you chose to opt in which can be done

here on their site

. 

Suggestions for the 'Y' release community goals are still being accepted! If you have an idea that would be something the whole community should focus on,

please add it to this etherpad

!

We are now hitting EOL for the Ocata release stable-branch! Discussion on what this means can be found in

this thread on openstack-discuss

.

Most repositories have already been marked so we expect Ocata will be EOL for all projects shortly. Progress can also be tracked in gerrit under the topic:

ocata-eol

.
If you're interested in becoming a Certified OpenStack Administrator (COA), you can purchase an exam through the OpenStack website or through one of the many OpenStack training partners in the marketplace.
StarlingX: A fully featured cloud for the distributed edge
The community members are actively working on the 6.0 release. Currently, they are in the stage of approaching the first milestone that is scheduled for the middle of July. You can look into the approved specs for a highlight about the

planned content

they will be working on during this release cycle.
The recent OpenInfra Live episode,

Building the Intelligent Edge with Open Source Technologies

, featured StarlingX as Paul Miller, Wind River and Mark Collier, OpenInfra Foundation discussed the challenges and opportunities of the intelligent edge. Check out the OpenInfra Foundation's

YouTube playlist

to watch this episode and further exciting content
Zuul: Stop merging broken code
Zuul 4.6.0 provides a number of

critical security fixes

, so make sure to update your deployment as soon as possible.
Upcoming Virtual OpenInfra and Community Events
July

13-14: SODAcon – virtual

Check out the keynote from Jonathan Bryce on "T

ransforming Data & Storage through Open Source Collaboration" and the lighting talk from Kendall Nelson on "

Technical Overview of OpenStack, Kubernetes, and Storage Plugin".

Use access code 

OISODACON2021 for free access.

September

20-24: 5G World – hybrid (London, England)

October
Questions / feedback / contribute
This newsletter is written and edited by the OpenInfra staff to highlight open infrastructure communities. We want to hear from you! If you have feedback, news or stories that you want to share, reach us through [email protected] . To receive the newsletter, sign up here.