A year ago, the Kata Containers project was officially announced at KubeCon + CloudNativeCon in Austin, Texas. On the first anniversary of the Kata project, here's a highlight of the activities and progress made in the global community.
Community activities
In 2018, the Kata community presented technical updates and hosted gatherings at several global events including KubeCon + CloudNativeCon Austin, KubeCon + CloudNativeCon Copenhagen, OpenStack Summit Vancouver, DockerCon San Francisco, LC3 China, Open Source Summit Vancouver, Container Camp UK, DevSecCon Boston, Open Source Summit & KVM Forum Scotland, OpenStack Summit Berlin and DevOpsCon Munich. Kata has also been featured at several OpenInfra Days, OpenStack Days and other container-focused meetups around the world.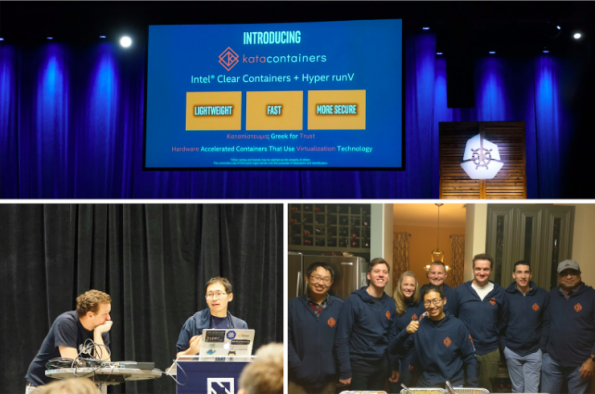 Watch some of the many Kata presentations:
The Kata Containers project joined the Open Container Initiative (OCI) in March as part of the larger announcement that the OpenStack Foundation became a member of OCI. OCI is an open-source initiative that aims to create industry standards around container formats and runtimes. The OCI specs guarantee that container technology can be open and vendor neutral and become a cornerstone of future computing infrastructure. The Kata Containers community continues to work closely with the OCI and Kubernetes communities to ensure compatibility and regularly tests Kata Containers across AWS, Azure, GCP and OpenStack public cloud environments, as well as across all major Linux distributions.
Today #KataContainers joins @OCI_ORG! Learn more about why Kata is using OCI specs as we build secure containers https://t.co/ZaJfnhoV59 https://t.co/iPn9Knvq6X

— Kata Containers (@katacontainers) March 14, 2018
In July, Clear Linux OS announced support for Kata Containers, allowing users to leverage the benefits of Kata Containers in the Clear Linux OS by easily adding a bundle and optionally setting Kata Containers as their default containers option. Through collaboration with Canonical, we also posted a Kata Containers snap image in the Snap store for use with Ubuntu as well as many other Linux distributions. In Q1 2019, we expect to see Kata in the official openSUSE/SLE repositories.
The first Architecture Committee elections were held in September and the community welcomed Eric Ernst (Intel) and Jon Olson (Google) to join existing members Samuel Ortiz (Intel), Xu Wang (Hyper), and Wei Zhang (Huawei).
The #KataContainers Architecture Committee gives an update at #OpenStackSummit @egernst @jessfraz Wei Zhang @gnawux and @jonolson pic.twitter.com/D5LBnL2cjF

— Kata Containers (@katacontainers) May 22, 2018
In October, the local China community hosted a Kata meetup in Beijing designed for large cloud providers including Alibaba, Baidu, Tencent and more to share adoption plans and feedback for the Kata Containers roadmap. The event, organized by Intel, Hyper and Huawei, shared some early prototypes of Kata Containers on NFV, edge computing, new VMM NEMU and Cloud Containers Instance products. "Kata Containers solves the problem of container isolation by integrating VM and container technologies," said Bai Yu, senior R&D engineer at Baidu Security. "We apply Kata Containers to DuEdge edge network computing products, which greatly simplifies our resource isolation and container security design in multi-tenant scenarios."
Great turnout for the @katacontainers technical deep dive keep in Beijing. @gnawux updating everyone on community progress before we see demos and hear from users pic.twitter.com/1RnAk2TqMD

— Jonathan Bryce (@jbryce) October 17, 2018
Development
In May, during the Vancouver OpenStack Summit, Kata landed its 1.0 release. This first release completed the merger of Intel's Clear Containers and Hyper's runV technologies and delivered an OCI compatible runtime with seamless integration for container ecosystem technologies like Docker and Kubernetes.
Yesterday afternoon we stumbled on the last meeting before this morning's @katacontainers 1.0 release! Congrats to all Kata contributors! ?#ThisIsOpenInfra #OpenStackSummit pic.twitter.com/2yM8lJwYBJ

— OpenStack (@OpenStack) May 22, 2018
Since September, the project delivered several releases which introduced features to help cloud service providers (CSPs) and others who plan to deploy Kata into production. The 1.3.0 and 1.2.2 stable releases featured Network and Memory hotplug in order to better support CSP customers' running production environments. The community also continued its pursuit of cross-architectural design by adding more support for ARM64 as well as Intel(R) Graphics Virtualization.
Most recently the project has made some rapid advancements with the 1.4.0 release which offers better logging, ipvlan/macvlan support through TC mirroring, and NEMU hypervisor support. View the full list of 1.4 features in this blog post.
The 1.5 release is currently planned for mid January 2019, and will offer support for containerd v2 shim among other features.
Since its launch, Kata Containers has scaled to include support for major architectures, include AMD64, ARM and IBM p-series. The Kata community is fortunate to have input from some of the world's largest cloud service providers, operating system vendors and telecom equipment makers such that the project can better serve their internal infrastructure needs as well as enterprise customers.
Up next
The Kata Containers community will again be at KubeCon + CloudNativeCon next week to talk about the latest v1.4 release and use cases for operating secure containers. Kata will have a booth presence to provide more visibility for the project and a central location for outreach, education and collaborative discussions. If you're attending KubeCon, come join us at booth S17 in the expo. Xu Wang of Hyper.sh, Eric Ernst of Intel, and Jon Olson of Google—members of the Architecture Committee—will join other community leaders at the event.
Kata Containers will be featured in nearly a dozen sessions, notably:
Looking ahead to next year, the Kata community will hold two open meetings on December 17, 2018 to discuss community building, advocacy, events and marketing plans for 2019. Anyone is welcome to participate. Meeting details can be found here.
Kata Containers is a fully open-source project––check out Kata Containers on GitHub and join the channels below to find out how you can contribute.
As we celebrate one year, Kata community leaders and contributors reflect on the project's growth and impact.
"It's been great working on Kata over the past year. I love learning, and with this project, we touch so many technical domains while living in a very dynamic ecosystem.  Even an older, mature technology like virtualization is super exciting. For me, it's the input and contributions from the community which make the project great. Looking forward to scaling further in 2019!"

— Eric Ernst (@egernst), Member of Kata Containers Architecture Committee
"My Kata journey began with a marathon-like series meetings, in which we decided to merge runV and Clear Containers, in September 2017 in San Francisco, Denver, and Portland. Then we had impressive preparing meetings in Austin/Oct, Sydney/Nov, and again Austin/Dec, and announced Kata Containers together with Intel and OpenStack Foundation. And this year, in Copenhagen,  Vancouver, Beijing, Taipei, Berlin, and soon Seattle, it is Kata containers that changed our company's and my track. Thanks for the tremendous efforts from foundation and Intel, Huawei, Google, ARM, IBM, ZTE, etc., the community has made the project become much stabler and faster, and I believe the project will become even better in the next year."

— Xu Wang (@gnawux), Member of Kata Containers Architecture Committee
"Long long time ago, about 2 years before Kata was born, I noticed the announcement of Intel Clear Containers(CC) and Hyper runV projects, and had been attracted by the idea at once. It solves some real problems for containers, in a smart and practical way. Since then,  I joined the community and worked a lot together with Hyper and Intel. The merge of CC and runV was another exciting news as it consolidated efforts from two communities. Kata containers keeps evolving quickly over the past year, lots of new features were added, code quality and stability are better and better, more people from more companies are joining. This is the charm of open source, this is the power of open source, and this is the most interesting and coolest thing I have done in my past years! Happy birthday, Kata!"

— Wei Zhang (@WeiZhang555), Member of Kata Containers Architecture Committee

"It has been exciting as a member of the Kata Community and observing all the exciting changes over the last year. After experiencing the significant adoption of containers in the industry over the last few years, I was instantly captivated by Kata Containers and the idea of running containers in a VM to make it easier to sandbox container workloads. Then, the recent announcement from Amazon to open source their Firecracker micro VM project continues to ignite the excitement in the community.  I am looking forward to noticing more Kata Containers running in more production environments."

— Rico Aravena (@raravena80), Kata Containers Contributor
Cover image: Via Lego.com
Latest posts by Claire Massey
(see all)