The updated OpenStack Certified OpenStack Administrator (COA) exam became available in October 2019, and we have seen a resurgence in interest by both the global community and our training partners. Thousands of Stackers have demonstrated their skills and proven their expertise, helping organizations identify top talent in the industry. The COA exam remains a critical and respected certification for anyone working on OpenStack.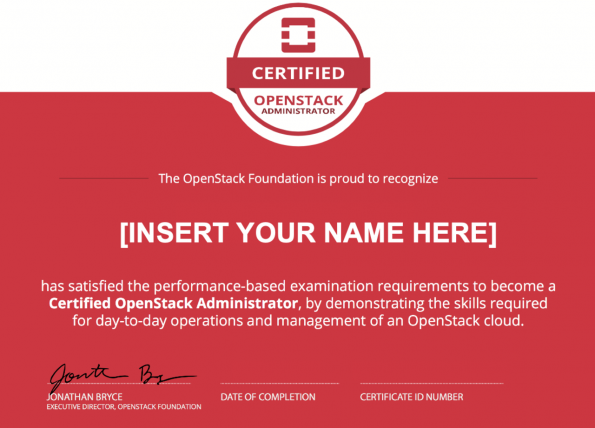 New to OpenStack? Has your certification expired? Do you want to prove your OpenStack skills? Take a look at the OpenStack Docs, then head over to the OpenStack Training Marketplace and find one of our qualified Training Partners. They will help guide you through all of the critical pieces you need to succeed in taking the COA. The current exam is based on OpenStack Rocky and this is an opportunity to not only get a certification, but also get familiar with one of the more recent OpenStack releases.
The exam itself covers all of the core compute, storage, image, and networking services necessary to run OpenStack. To kickstart your preparation for the COA exam, we are offering a 20% discount when you purchase through the OpenStack website. Use code COARECERT2020 through February 29, 2020.
Once you've completed the exam, it's time to get involved with the OpenStack Community:
The OpenStack Foundation would like to thank Mirantis for administering the exam and the dozens of global training partners who are supporting the next wave of OpenStack talent.
Airship: Elevate your infrastructure
Kata Containers: The speed of containers, the security of VMs
OpenStack: Open source software for creating private and public clouds
StarlingX: A fully featured cloud for the distributed edge
Zuul: Stop merging broken code
Find OSF at these Open Infrastructure Community Events
March
April
May
June
October
For more information about these events, please contact [email protected]
Questions / feedback / contribute
This newsletter is written and edited by the OSF staff to highlight open infrastructure communities. We want to hear from you! If you have feedback, news or stories that you want to share, reach us through [email protected] . To receive the newsletter, sign up here.