Spotlight on: StarlingX 5.0
Edge computing opened up new possibilities by taking cloud and automation into industries where technology evolution is still in the early stages and with that it is putting high demands on infrastructure, both hardware and software. The StarlingX community has been working tirelessly to fine tune the platform for these new requirements and they have just put out the 5th release of the software with focus on areas such as security and performance.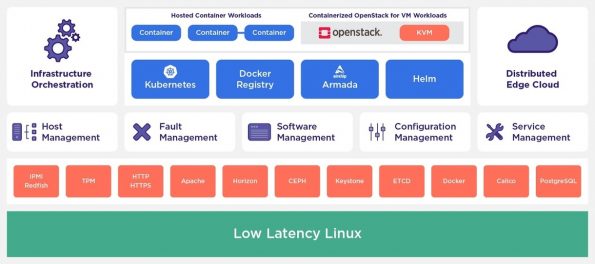 StarlingX 5.0 integrates a new open source building block, Vault, into the platform for secret management. Contributors also made improvements to the certification management functionality for more automation.
To meet the computing power and performance requirements of edge, support for hardware acceleration has become key, and that is reflected in StarlingX 5.0 as well. The 5.0 version now provides support for Nvidia GPUs as well as the possibility to update images on FPGAs through StarlingX.
To help bring the technology to new industries the community added a new feature, called edgeworker nodes, that is a new personality distinguished from 'worker' nodes. With this functionality you can now add devices like industrial PCs on factory floors, to a StarlingX environment with only installing a few agents on them. Beyond this use case, edgeworker nodes are usually deployed close to an edge device, such as an I/O device, a camera, a servo motor or a sensor, to manage host-based enrollment.
For the complete list of updates and new features in StarlingX R5.0, check out the release notes and the project documentation.
Visit the StarlingX website today for further information about the project, check out the code, or download the image to deploy the platform and try out the new features.
Over 60 organizations support the OpenInfra Foundation's mission of building communities who write software that runs in production. To support the growth of the following OpenInfra communities,

join the Foundation

.

The OpenInfra Foundation supported the launch of the first region of the OpenInfra Labs Cloud Network. OpenInfra Labs will enable the cloud services and network deployed in this founding region to be replicated to other regions, federated between these regions and extended beyond academia.

Get involved

!
OpenInfra Live

is the OpenInfra Foundation's weekly, hour long, interactive show sharing production case studies, open source demos, industry conversations, and the latest updates from the global open infrastructure community!

Keeping up with new OpenStack releases can be a challenge. This week's show (June 10th at 14:00 UTC) will be a continuation of the

May 20th OpenInfra Live episode

, featuring a panel of large scale OpenStack infrastructure operators from Blizzard Entertainment, OVHcloud, Workday, Vexxhost and CERN, join us again to further discuss upgrades. Ask your questions for our panel ahead of the show by filling

this form

!

Catch up on exciting episodes you missed, including:

Have an idea for an episode or are interested in presenting? We'd love to hear from you! Tell us all about it at

ideas.openinfra.live
Airship
: Elevate your infrastructure
Airship community IRC channels

moved from Freenode to the OFTC network

at the end of May. IRC users should adjust their client configuration accordingly.

Running or evaluating Airship? We want to hear from you! Take the brief

User Survey

to provide the community with feedback

Airship has a new HackMD troubleshooting guide! Check it out

here

.
Kata Containers
: The speed of containers, the security of VMs
OpenDev:
Open Source Software Development at Scale
The OpenDev Collaboratory relocated its IRC services and channels from Freenode to the OFTC network at the end of May. Read more about what that means on the

service-discuss mailing list

.
OpenStack
: Open source software for creating private and public clouds
StarlingX
: A fully featured cloud for the distributed edge
Zuul
: Stop merging broken code
Upcoming Virtual OpenInfra and Community Events
Questions / feedback / contribute
This newsletter is written and edited by the OpenInfra staff to highlight open infrastructure communities. We want to hear from you! If you have feedback, news or stories that you want to share, reach us through [email protected] . To receive the newsletter, sign up here.