Mariano Cunietti is the CTO of Enter, a public cloud provider based in Italy. Cunietti has been involved with OpenStack since 2013 and has been lobbying almost since he started to host an event in his native country. He made it happen with the recent Operators Meetup, hosting it along with sponsors including Bloomberg and Switch in the town where he's based, Milan. Here are his tips and strategies for making an OpenStack event successful — and local.
When we started organizing this operators mid-cycle meetup we had no idea what it meant to gather so many people — especially operators. This last cycle, the two last standing competitors to host the Operators Meetup were Milan and Tokyo. Tokyo had already hosted the Summit last year so it was finally our opportunity to bring part of the global OpenStack community to Italy.
Since the Manchester Operators Meetup, organized last year by our friends at Datacentred.co.uk the event has grown a lot. The operators mailing list is now super-active and involves lots of people, especially in Europe. There was no need to advertise it — but the Operators Meetup was not meant to be a EU-centric meeting, so we targeted anyone interested in coming to share operational experience and -why not?- spend a few days in a warm country with great food and plenty of things to see.
Being an absolute beginner at organizing events, I needed a lot of help from the community and  felt a bit lost initially. Matt Jarvis, who organized the Manchester event, helped me get my bearings by kindly sharing all of his experience on venue, printing, catering, evening events etc.  I found his hints so helpful that I want to share mine here for the next Ops Meetup organizer.
Full house
For starters, you need to understand how many people you can host — target an average of between 100 and 150 max. Whether you're renting space or running it at your office, you need to provide the right number of seats and rooms. You'll need a main room that can host all of the people at once (in our case 130 seats), plus some smaller rooms for secondary tracks, say at least three including the plenary room.
Since rooms depend upon the agenda, you'll be happy to know that the Foundation and the community will be in charge of defining topics, submitting proposals, voting and scheduling, according to the room size you are providing. You'll end up receiving a spreadsheet with all the information you need to be printed and the rooms to be prepared.
Just remember to help the sponsors understand that talks are not sponsored and they must be strictly technology and open-source related. There is no "Demo Theater" at the Ops Meetup. Talks and discussions are subject to open voting and sponsors can propose and apply (and vote) as anyone else.
Room with a view (or better: outlets and Wi-fi)
Provide a projector, a whiteboard, colored markers and at least two microphones per room.
One mike is for the moderator and the other is for the audience — having just one makes it trickier to hear or to move around. Do not forget to provide proper access to Wi-Fi (with a theme SSID) and plenty of power outlets, as scarcity of either tends to make attendees pretty restless during the sessions.
You may want to hire a professional photographer or video maker to record sessions and give an overall feel for the event and to share this material after or even during the event. We did, but you can also rely upon the attendees to provide their pictures. If this is the case, a clear Twitter hashtag helps a lot in collecting them afterwards. Ah, this may seem obvious but size your restrooms accordingly. You definitely don't want people spending session time nervously in line for the toilets.
Location, location, location
Once you have the overall attendee total number and the venue, you need to right-size all the number-dependent facilities: accommodation, catering and evening events. For the accommodation, find hotels close to the meetup venue. A good of thumb rule would be no farther than a 15-minute walk. Most of people will want to be within walking distance and on the second morning, after the night event, chances are that hangover/jet lag will make the morning walk to the sponsored coffee feel much longer.

Also, the hotels must have decent access to transportation: most attendees come before or stay after to visit the city. You don't want those folks to get lost in some unknown part of the city and end up wandering in late. Find two or three alternatives, possibly giving at least two pricing options and get a deal on discount codes. We targeted 80 percent of the people coming alone and 20 percent with family, so we arranged single and double room reservations accordingly.
Food matters
We managed to cater two lunches and some local snacks for breakfast and mid-afternoon breaks, and arranged some self-service coffee stations (espresso and American), but we unfortunately didn't properly address tea-drinking attendees.  This can be easily solved and you can save a lot of money on waiters that's better spent on food quality.
Being Italian, we knew that people were expecting us to raise the bar on food and we went for the "wow" effect (pasta with fresh burrata mozzarella made in front of people in the largest pan I've ever seen, check it out here). Just remember to plan for veg[etari]ans/kosher/etc. and other dietary restrictions when choosing the menu. OpenStack is all about diversity!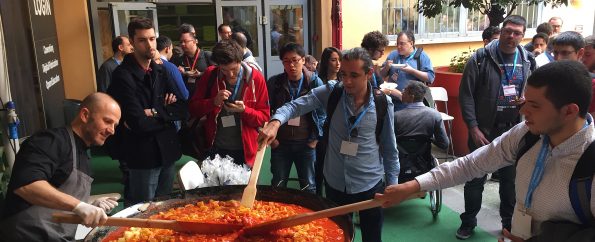 Signing bonus
For the event, the Foundation kindly offered to cover registration fees. You only need to tweak the registration fee accordingly, but remember the Ops Meetup are mainly covered by the sponsors and not by attendees. A maximum of $20 was fine for us (it covered beer, wine or the must-have aperitif, Spritz) plus some food. We definitely wanted to give Stackers a taste of the Italian lifestyle and the Navigli location was a perfect match.
You'll need some print collateral to provide on-site orientation and copies of the agenda. Also, some attendees requested an online version of the agenda; Sched would suit that need but a simple static page on a website would also suffice.
We gave out some paper folders at the registration desk with the Meetup agenda (with Wi-Fi and Twitter hashtag information on top), a venue map, sponsor leaflets and night event directions. Remember that many people are coming from far away and they need to be told exactly how to move around your town safely. We provided three options for reaching the evening event venue, ranging from the fastest one by taxi (with help on carpooling) to a city sightseeing one with a local tram. Also, don't overlook pinpointing major local tourist attractions – if attendees travel far to come to your event, make sure they don't miss out.
You will also need some signage at the meetup venue, especially in front of the meeting rooms, to help people not to get lost. Finally, a couple of roll-ups (ideally one per meeting room plus one at the entrance or in the lunch room) with sponsor logos helps compensate the sponsors for their efforts. The main goal is to have the logos visible in every picture or video shot (and shared on social networks) during the talk.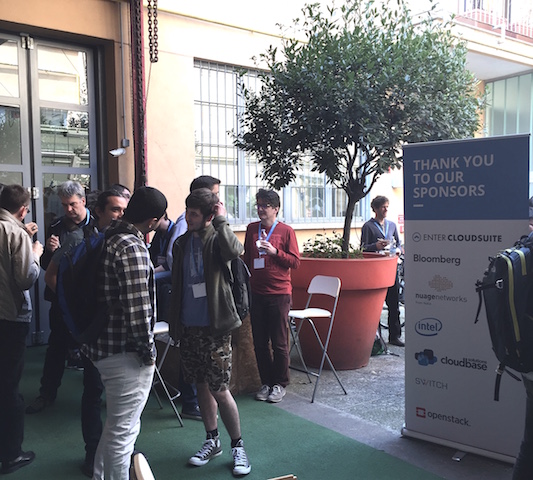 And always remember: without sponsors the Meetup can't take place, so pay attention to their needs and show some gratitude!
That's pretty much it. If you want to hear more about the Milan meetup, check out Robert Starmer's excellent recap video or read the Etherpad feedback directly from participants!
Get involved!
If you want to bring the next Ops Meetup to your town, pay a 
visit here
. The 
Ops Meetup Team
 meets regularly on IRC (Freenode, #openstack-operators channel) to discuss all the Meetup topics there. If you missed previous meetings, don't worry: you can always
eavesdrop on
them!
Latest posts by Superuser
(see all)