BOSTON —  The edge of cloud computing just got closer. While the early adopters were often telecoms, boundaries are now being pushed for oil rigs, self-driving cars, hospitals and retail chains. Massive amounts of data generated at the edge of networks — both public and private clouds — leading to a corresponding spike in users who need edge computing.
Verizon took to the keynote stage at the OpenStack Summit Boston to showcase a cloud-in-a-box system using OpenStack for edge computing that's about the size of your home router.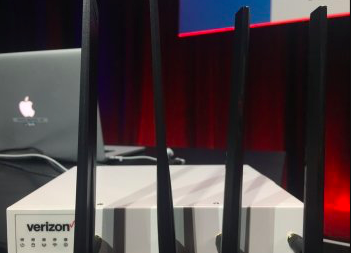 "We need to be in the edge, the data center, all over the place," says Beth Cohen, distinguished member of technical staff at Verizon. If you take a look at the the scope of their business, it's easy to see why they need an edge: Verizon has a 4LTE network available to 98 percent of the US population, a global IP network covering six continents, IP and data services in over 150 countries and seven security operations centers on four continents.
The journey began couple of years ago when Verizon announced its software-defined networking strategy. Cohen's team was tasked to deliver products to meet that strategy – making sure that solutions were simple, reliable and secure. "And of course we had the aggressive delivery dates and the OpenStack platform gave us a leg up to get there." Verizon chose OpenStack because it could unify management across the network, move workloads between the edge while still offering seamless a customer experience, flexible toolset and vendor release coordination. It was "OpenStack to the rescue," Cohen says.
Holy cow – color me impressed with @verizon uCPE / Virtual Network Services / OpenStack in a Box – #openstacksummit #OpenStack #cloud pic.twitter.com/u3OePhnxaq

— Joseph George (JBG) (@jbgeorge) May 8, 2017
The result is the universal CPE (or "cloud-in-a-box"), which runs a Linux management operating system on a generic X86 platform, a hypervisor containerized OpenStack agents controllers with OpenStack at the edge to enhance the SDN experience. They managed to cram everything in the box by containerizing and minimizing the size of the OpenStack footprint – what's important are the services to customers that generate revenue.
Cohen demoed how they can order, provision and monitor on the services they're running from one integrated port and how network management analytics optimization security and safety all in one package. The result is a global massively distributed OpenStack cloud management network that offers multiple service delivery options — from WAN optimization, security, and routing with more services in the works.
.@verizon @OpenStack Want your circuit upgraded? Bam. Add a new service to your CPE. Done. #OpenStackSummit

— Major Hayden (@majorhayden) May 8, 2017
"OpenStack-in-a-box is a solution…because the coffee shops of the world just want something to work," Cohen says. You can hear more about how OpenStack users are working on the edge at the birds-of-a-feather session at the Boston Summit.
Latest posts by Nicole Martinelli
(see all)