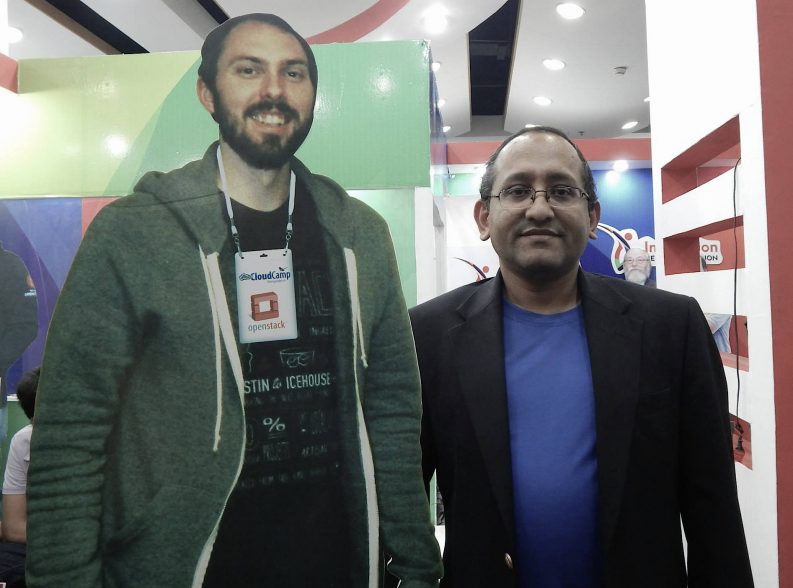 At any tech conference, the lines always tell a story. While people generally queue for the food and coffee, at CloudCamp Bangladesh some of them waited to take pictures with cut-outs of OpenStack Foundation members.
Pictured above is Mohammad Zaman, founder of CloudCamp Bangladesh with a life-size stand-in for OpenStack executive director Jonathan Bryce. Zaman tells us that the fourth edition was a resounding success.
In a country with 120 million mobile phone users — and that's still only 75 percent of the population — the cloud is becoming increasingly important.
"Almost all of that mobile content and data are coming from the cloud or residing in a cloud," Zaman says. "So people are really interested to know, 'What is it? How do I use it and how can this be good for Bangladesh?'"
Roughly 900 attendees filled the Bangabandhu International Conference Center (BICC) in Dhaka to attend CloudCamp Bangladesh sponsored by OpenStack at Digital World 2015.
The fourth CloudCamp Bangladesh focused on open source technologies for cloud, such as OpenStack, Cloud Foundry and more. Billed as an unconference where early adopters of cloud computing technologies can exchange ideas, challenges and share best practices, the camp attracted many students who were keen on participating in the discussion. About 80 percent of attendees were students, eager to participate in open discussions striving for the advancement of cloud technologies in Bangladesh.
"Bangladesh is a very much open-source oriented country, culturally. Students like to participate and contribute," Zaman added.
The three-hour camp featured discussion topics such as Kevin Jackson's "Building a Cloud for the Government" and a panel discussion on "A Cloud for the Government of Bangladesh."
Zaman says the amount of participation and awareness raised make the event a success. The event was of interest to the locals because, according to Zaman, "Cloud is where information technology is moving." Zaman adds that despite interest, there's a lot of confusion on the definition and utilization of it, but that the future looks promising. "We would like to see OpenStack very active in Bangladesh, as we see great interaction and enthusiasm."
Cover Photo of Dhaka by Imtiaz Tonmoy // CC BY NC
Latest posts by Hong Nga Nguyen
(see all)