VANCOUVER, British Columbia — The OpenStack Vancouver Summit kicked off day two by awarding the Superuser Award to Comcast.
Tim Bell of CERN, whose team won the honor last year, passed the baton to the crew from Comcast.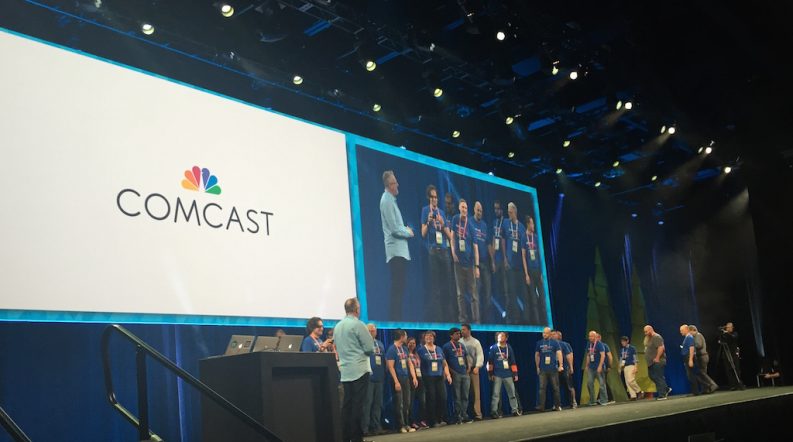 Comcast Cable is the nation's largest video, high-speed Internet and phone provider to residential customers under the XFINITY brand and also provides these services to businesses.
Comcast's commitment to OpenStack is greater than ever: the team has increased its infrastructure by more than 500 percent in the last year. OpenStack has helped team members roll out new services and features at a much quicker rate, and has enabled faster time-to-market, allowing its engineers a self-service portal to access resources on demand. This allows them to reduce the time to provision resources with the flexibility that OpenStack provides. Portions of Comcast's latest X1 set-top box back end, which currently services millions of consumer set-top boxes, is one of its largest consumers of OpenStack infrastructure. To date, the Comcast team has contributed more than 36,000 lines of code to OpenStack.
The team not only won the esteem and admiration that comes with being a Superuser Award winner, but are also provided two hotel stays and two flights to the Tokyo Summit in the fall, along with up to ten full access passes. Congratulations!
The OpenStack Foundation launched the Superuser Awards to recognize, support and celebrate teams of end-users and operators that use OpenStack to meaningfully improve their businesses while contributing back to the community.
Interested in nominating a team to be recognized at the next Awards ceremony in Tokyo? Stay up-to-date on the latest information at superuser.openinfra.dev/awards.
Latest posts by Superuser
(see all)