5G networks promise a lot: breakneck speed, self-driving cars, telemedicine and more. A new report says that most telecom insiders expect them to be powered by open source, virtualization and edge computing.
This is one of the top takeaways from a recent Futurum Research study sponsored by Intel. The 22-page report, free with email registration here, polled 500 telecom industry insiders. Half of them are based in North America and half in Western Europe, with over 40 percent working at companies with more than 5,000 employees.
When asked what specific 5G revenue and monetization opportunities telcos on were most interested in pursuing, virtual networks universally came up as the number one response, followed by automation, cloud and edge computing, open source and cloud-native applications. This follows, the report authors note, since the three main drivers of 5G rollouts so far are mobile broadband and the internet of things. Of those polled, nearly 40 percent are primary decision makers for planning, deployment management or oversight for 5G in their companies. And the tech is coming fast: Nearly one third of first generation 5G rollouts are scheduled to occur in H1 2019, according to the report.
Speed bumps
Of the challenges experts say they face for this ambitious rollout schedule, first on the list is lack of a clear 5G deployment strategy (38 percent) followed by lack of adequate budget (32 percent) followed by leadership apathy (30 percent.) Rounding out the list are a pair of perennial problems, a lack of 5G training and specialized knowledge (26.7 percent) and inadequate technology investments (17.5 percent.)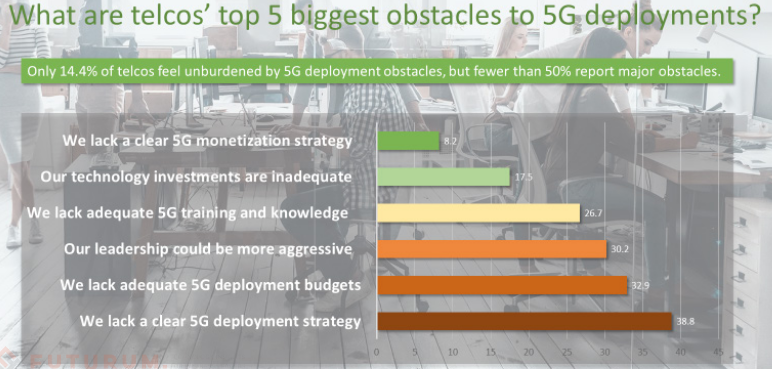 "Again, we bump into an agility problem," report authors Daniel Newman and Olivier Blanchard write. "Organizations lacking the right skills and the right tools to leverage new technologies and the revenue models they can drive are unable to operationalize their strategy and execute on it in the real world."
Get ahead
The upcoming Open Infrastructure Summit offers a number of sessions on 5G, plus tracks dedicated to edge computing and telecoms and NFV. Speakers come from companies including Intel, Nokia, China Mobile, Verizon, Ericsson and Lenovo.
Photo // CC BY NC
Latest posts by Superuser
(see all)