Where there is risk, there's reward: that was one of the key messages from the stage at the OpenStack Summit Vancouver day two keynote.
Mark Collier, OpenStack Foundation COO, was master of ceremonies in a two-hour session titled "Taking Risks: How Experimentation Leads to Breakthroughs" that highlighted some of the daring feats of users including the Jet Propulsion Lab, Google and eBay Inc. Collier invited participants to consider experimentation and taking risks in the same way a scientist might – at the heart of innovation.
"Think about OpenStack as an agnostic integration engine," Collier said. "One that puts users in the best position for success."
Meet the OpenStack Community App Catalog

Collier unveiled the OpenStack Application Catalog, designed to help users make applications available on their clouds. Recently added apps include Kubernetes, Cloud Foundry, Oracle, Debian and OpenShift.
"This is the beginning, knowing this community, expect there will be hundreds of new additions in the next few days," Collier said.
Craig Peters from Mirantis led the demo "the opposite of a black-screen demo" by logging into
Horizon and using Murano to get the apps to self deploy.
The app catalog will make launching cloud apps a lot easier — you can read more about it in this write-up from Tech Crunch.
Community Driven App Catalog for @OpenStack is now live. Time to create templates http://t.co/dB5qDTjo3X #OpenStackSummit

— Michael Saul (@michael_saul) May 19, 2015
Containers, containers, containers
The keynote dedicated a good chunk of space dedicated to the "new" hot technology: containers. (The Summit also has dedicated a whole day to the topic – see more here and catch videos from these sessions on the OpenStack Foundation YouTube Channel.
Collier asked how many people in the audience were running Docker containers already and about five people put their hands up. When he asked how many were interested in running them, there was a sea of raised arms.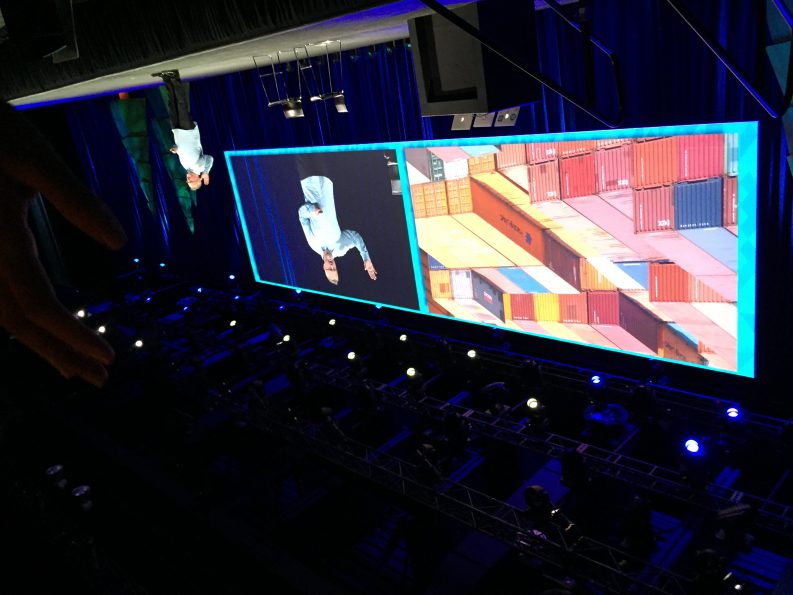 Adrian Otto, project team lead for OpenStack project Magnum, took the stage to talk about how the project burst on to the scene. Magnum container management involved 42 engineers from 19 different affiliations and more than 106,000 lines of code in just six months.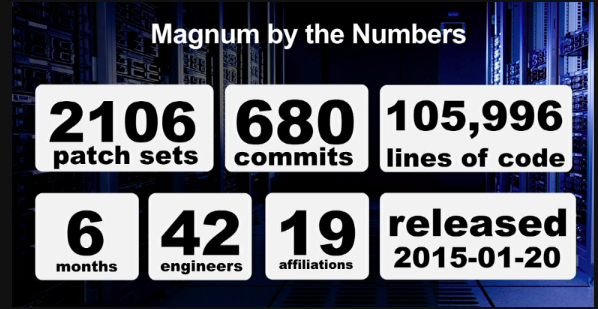 Otto zipped through a demo with "Kube" (the cool-kids nickname for it, apparently) showing how Magnum managed Kubernetes and Docker can work side-by-side.
"If you're already an OpenStack user, it leverages tools you're already used to," Collier said after the demo.
@robertcathey it needed to be shortened

— Allyson Klein (@TechAllyson) May 19, 2015
Otto's later Container Day session was standing-room only:
Standing room only for #OpenStack Magnum talk by @adrian_otto A highlight of this fast growing & important project. pic.twitter.com/9PjMMOnlLJ

— RackspaceStartups|SF (@StartupsSF) May 19, 2015
Collier welcomed Google's Sandeep Parikh to the Summit keynote stage with a question:
"What ARE you doing here?"
Parikh responded that Google came to Vancouver to talk about Kubernetes — and Google's vision of it running everywhere. Google launches over 2 billion containers a week, and this hybrid approach makes it easy for Kubernetes to recover from disasters.
3 hot topics at #openstack in vancouver- Containers, Containers and Docker

— Andrew Reichman (@reichmanIT) May 19, 2015
Bare metal rocks
James Penick, cloud architect at Yahoo, hit the stage to the tune of a raging guitar solo. It was the fitting "bare metal" soundtrack as he hit the crowd with some hair-raising numbers. Penick says Yahoo has been "secretly building the largest bare metal cloud in the world," Yahoo has servers in the hundreds of thousands and by the end of 2015, Penick says they will all be on OpenStack.
@josephajacks: Wow, @Yahoo will have 100's of THOUSANDS of physical servers managed by @OpenStack by the end of 2015. #devops

— Mark Carter (@markcartertm) May 19, 2015
Another success story was shared by Zack Rosen of Pantheon. "We run over 400,000 environments for customers," Pantheon said to audible sighs from the crowd when he shared the cost savings and efficiencies.
For Rosen, "the future is containers and bare metal" and virtual machines are becoming obsolete.
Pantheon using containers on #OpenStack to deploy 400k dynamic, load-balanced sites with staff of 4 DevOps engineers! pic.twitter.com/H2l82fl2re

— Phil Estes (@estesp) May 19, 2015
Superuser Intel also shared some eye-opening numbers. Its OpenStack journey started in 2012 with less than 300 servers but by spring of 2015 that cloud coverage extended to 12,000 hypervisors, said Imad Sousou, director of the company's open source technology center.
"There is a perception that OpenStack is not ready for prime time, and there's some truth to that," he added. It took 10 years to get Linux to where it is now, OpenStack is on that same path, it takes work to get success. Now it's a question of focus."
Imad Sousou: Win The Enterprise work group has driven focus on critical requirements enabling #OpenStack adoption. pic.twitter.com/KuzkB0iF7N

— Derek Sellin (@DerekSellin) May 19, 2015
"We at Intel are very committed to OpenStack, we think this is THE platform for cloud," he asserted.
Don't say "we're committed to @OpenStack" Instead, call out the specific people at Intel who are doing awesome work. Paul Luse is one.

— John Dickinson (@notmyname) May 19, 2015
Superuser award finalist eBay also had some great numbers and good insight into future work. Subbu Allamaraju, chief engineer of Cloud at eBay told the crowd that when he started in 2012,
we had no automation to speak of, but by 2013 "we automated the heck out of it." eBay/PayPal are running 100 percent of PayPal production web/app and 100 percent of dev/test workloads.
Calling it a "hand-crafted organic cloud," he says that this isn't a roadmap that he expects other companies to follow. Saying that he was "excited about the demos" during the keynote, especially
Kubernetes and Mesos which can bring efficiency reliability to their apps, he put out a call for help.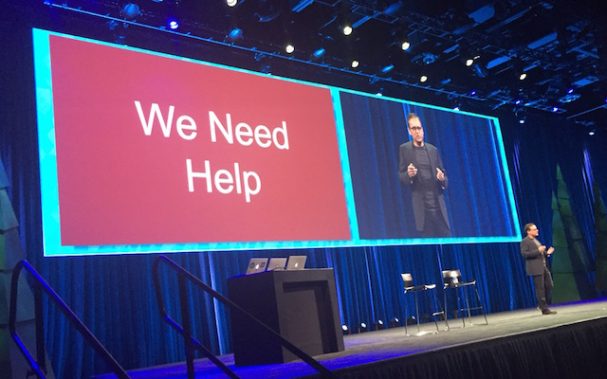 His prescription: 'OpenStack needs to do more on scalability, upgradability – raising the bar on the core. It also needs to "productize" operations– continue to expand the ops meetups. He noted that 89 percent of operators are running code base at least six months old and 21 percent of operators are running OpenStack code bases over 18 months old. Operators are not necessarily concerned with latest Liberty release.
Dare mighty things
Jonathan Chiang, IT chief engineer at the Jet Propulsion Laboratory, rocked the stage with the coolest video of the day. His "family" portrait featured three of JPL's projects that harness the power of OpenStack.
My code is running at NASA JPL! I'm basically an astronaut. https://t.co/FvHgIFHq6z

— John Davidge (@John_R_Davidge) May 19, 2015
NASA JPL uses OpenStack to plan human missions to Mars by 2030 and create asteroid redirect missions. How does OpenStack fit in? It helps them process and move over 80 terabytes of data per day.
Chiang finished with a request: "Support OpenStack because it's doing a wealth of good for JPL."
Cover Photo by The Fayj // CC BY NC
Latest posts by Nicole Martinelli
(see all)