OpenInfra Live is a new, weekly hour-long interactive show streaming to the OpenInfra YouTube channel every Thursday at 14:00 UTC (9:00 AM CT). Episodes feature more OpenInfra release updates, user stories, community meetings, and more open infrastructure stories.
Since the Paris Summit in 2014, the OpenInfra Foundation has hosted our annual Superuser Awards to recognize organizations that have used open infrastructure to meaningfully improve their business while contributing back to the community. Past winners will join us for this episode to discuss where they are now, what is next, and tips for organizations applying for this year's awards.
Enjoyed this week's episode and want to hear more about OpenInfra Live? Let us know what other topics or conversations you want to hear from the OpenInfra community this year, and help us to program OpenInfra Live!  If you are running OpenStack at scale or helping your customers overcome the challenges discussed in this episode, join the OpenInfra Foundation to help guide OpenStack software development and to support the global community.
Episode Recap
Sunny Cai, marketing coordinator at the OpenInfra Foundation, introduced the episode and provided background around the Superuser Awards. Launched at the Paris Summit in 2014, the community has continued to recognize organizations at every OpenInfra Summit to teams who show how open infrastructure is making a difference and provide strategic value in their organization while also contributing back to the open source communities in a meaningful way. 
CERN was actually the first winner of the Superuser Awards in 2014, an event that Belmiro Moreira, cloud architect at CERN, has good memories of.  Fast forward to today, Moreira shared a dashboard screenshot that was taken yesterday of CERN's live monitoring of their infrastructure.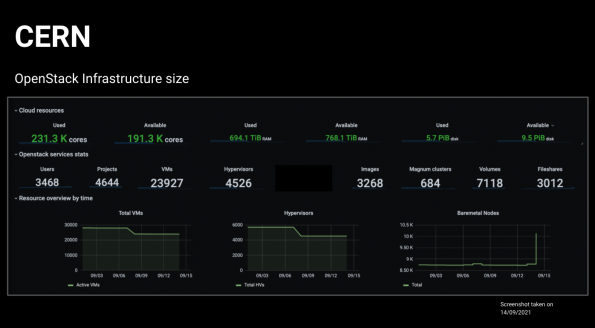 Today, they have 15 OpenStack projects distributed between different releases to accommodate the different use cases among their end users. While this configuration can be challenging, Moreira says it allows for flexibility for their overall infrastructure. In addition to OpenStack, the CERN infrastructure is supported by several open source projects including CentOS, Kubernetes, Ceph, Prometheus and a dozen more.
Xiaoguang Zhang, cloud architect at China Mobile, and Zhiqiang Yu, chief open source liaison officer, provided an update and massive growth that the China Mobile infrastructure has had since their team won the Superuser Awards in 2016. Today, China Mobile has a network cloud, private cloud and public cloud based on OpenStack spanning eight regions. 
"In China Mobile's OpenStack based infrastructure, we support 4G, 5G, edge computing and other IT services for internal use and also external vendors with our public cloud," Zhang said. We have scaled to around 300,000 physical servers and 6 million compute cores in total."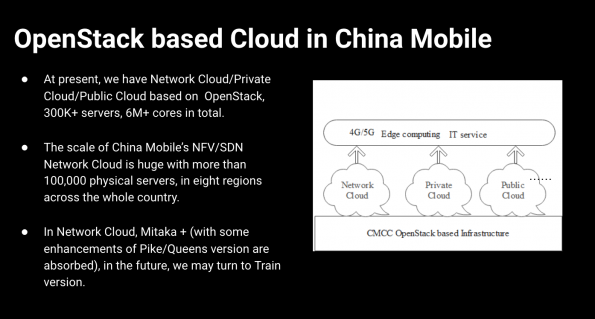 Zhang provided an overview of the Virtualized Networks Function (VNF) business, OpenStack based infrastructure and hardware layer. 
"For each OpenStack instance, it has to manage 500 to 1,500 servers," he said. "The VNFs (4G and 5G) are running on top of the virtualization."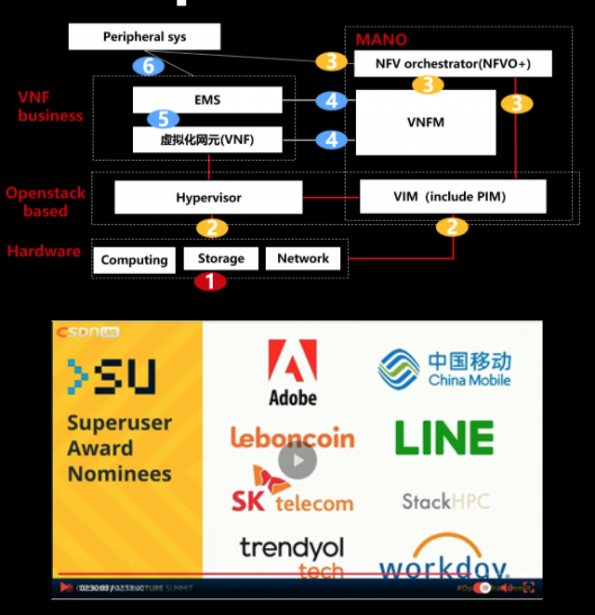 With this scale, Yu emphasized that China Mobile, a Gold Member of the OpenInfra Foundation, is really a Superuser now. 
"We are really looking forward to the next 10 years of OpenStack and the next 10 years of Open Infrastructure," Yu said. 
Jared Baker, cloud architect at the Ontario Institute of Cancer Research (OICR) shared how OpenStack has continued to support the research initiatives since their Superuser Awards win in 2018.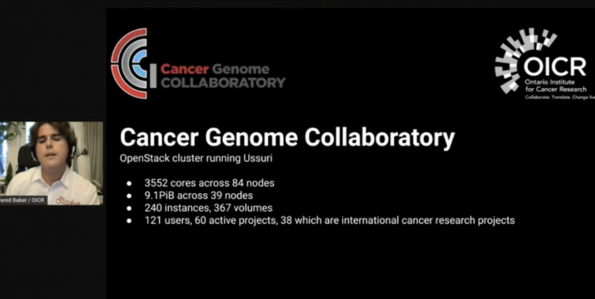 Baker detailed some of the current projects that are going on at OICR: 
Overture.bio, a collection of open-source, extendable solutions for big-data genomic science 

VirusSeq where they are sequencing 150,000 viral samples from Canadians who are testing positive for Covid 19

International Cancer Genome Consortium (ICGC) is uniformly analyzing specimens from 25,000 cancer patients

Expanding on ICGC, ARGO will analyze specimens from 100,000 cancer patients 
Even though VEXXHOST just won the Superuser Awards at the OpenInfra Summit Denver in 2019, Mohammed Naser, CEO of VEXXHOST, said their infrastructure has seen a lot of changes. This includes announcing an OpenStack upgrade solution, launching a new public cloud region in Amsterdam and running Wallaby, the most recent OpenStack release, for their private and public clouds.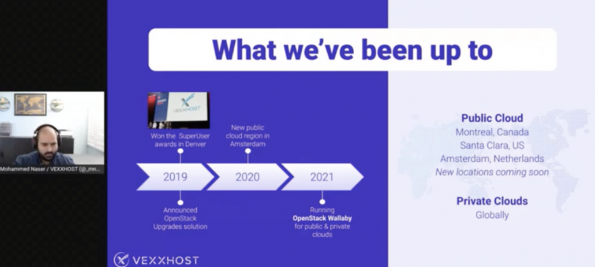 Naser also emphasized that they are open source across the entire stack, showing a breakdown of their open source adoption from container runtimes and orchestration to monitoring and CI/CD.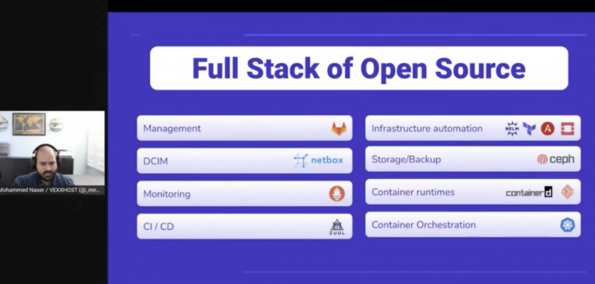 Questions for the Superuser Awards Winners
Next Episode on #OpenInfraLive
Join the volunteer organizers of OpenInfra Days to hear about the happenings at their latest local events, what they're looking forward to in the future, and learn what's happening with OpenInfra all over the world.
Tune in on Thursday, September 23 at 1400 UTC (9:00 AM CT) to watch this #OpenInfraLive episode: OpenInfra Days 2021 Recap.
You can watch this episode live on YouTube, LinkedIn and Facebook. The recording of OpenInfra Live will be posted on OpenStack WeChat after each live stream!
Like the show? Join the community! 
Catch up on the previous OpenInfra Live episodes on the OpenInfra Foundation YouTube channel, and subscribe for the Foundation email communication to hear more OpenInfra updates!
Latest posts by Allison Price
(see all)