Here's the news from the OpenStack world you won't want to miss — the musings, polemics and questions posed by the larger community.
Got something you think we should highlight? Tweet, blog, or email me!
In Case You Missed It
"Here we go again — another hour, another cloud acquisition," was the seen-it-all-before headline from Barb Darrow over at Fortune on IBM buying Blue Box close on the heels of the announcement that Cisco was snapping up Piston Cloud.
For some context, Tech Crunch sums it up like this: "It gives these companies like Cisco and IBM the talent they desire and some nice intellectual property to go with it."
Still ho-humming about this news?
The larger question of whether this means OpenStack is good or bad for startups ignited some interesting convos this week.
"OpenStack launched a lot of startups. But, strangely, it's been a mixed bag for them because they are competing with some of the largest companies in tech: HP, IBM, Red Hat, and so on
Good for Blue Box, Piston definitely seemed to be an acqui-hire for Cisco," says Business Insider.
Writer Julie Bort goes on to speculate about the fate of Mirantis, which is "routinely fending off acquisition offers." With this air of high-stakes intrigue, you have to wonder whether it's chance this article on "Game of Thrones" was offered up as related content…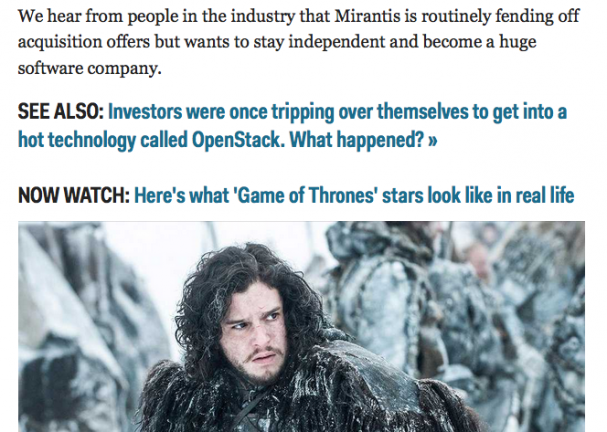 The idea that OpenStack is hostile to startups (assuming you agree that an acquisition is a bad outcome) and needs to change was taken up by Rob Hirschfeld, OpenStack individual board member and founder/CEO at startup RackN.
"The real question is not how to make OpenStack start-up friendly, but how to create a thriving system around OpenStack like Amazon and VMware have created," he writes, making a list of 10 points including interoperability and programming-language neutrality to improve the current situation.
Stefano Maffulli, developer advocate at the OpenStack Foundation, took on Hirschfeld point-by-point on his personal blog.
"So let me get this straight: IBM, EMC, Cisco are scooping up the first waves of startup that tried to build a product on the rudimentary OpenStack. Such big guns have the clout to create that large addressable market, lending their credibility to OpenStack as a whole. They also pay good checks to the OpenStack Foundation to power its awesome marketing machine. This is good for startups: they ride on a wave created with someone else's money," Maffulli says.
@edehde No particular take. Acquisitions happen? The only thing I know for certain is that the VCs think OpenStack is a big players game.

— Randy Bias (@randybias) June 3, 2015
If we is become OpenStack container company, we is maybe acquired for undisclosed amount by IBM. Ivanka is say careful what you is wish for

— Borat is Container (@container_borat) June 5, 2015
Govt / research agencies Tubitak & Ardic and largest video platform in Turkey Nokta Media talk about using OpenStack pic.twitter.com/81PAgjfAR1

— Lauren Sell (@laurensell) June 4, 2015
A special #FF for @jimmdenton the author of a spectacular book on using OpenStack Neutron! Go and get a copy! https://t.co/lJh8QEW7eX

— Kyle Mestery (@mestery) June 5, 2015
Five Years On, And OpenStack Is Absolutely A Thing… http://t.co/KXsljyAr5y

— Apple Fanboy (@TheApple_FanBoy) June 5, 2015
Little do you know the plans I have in store for @IBMcloud. 🙂 https://t.co/CjtpcAjzGM

— Jesse Proudman (@blueboxjesse) June 3, 2015
Change the names, and you could write the same story about 3-4 other companies. Everyone's trying to figure it out. https://t.co/YXB6WQq7sP

— Robert Cathey (@robertcathey) June 2, 2015
Time to name the next #OpenStack release. Dare I mention that marmots are a little bit like Lemmings? /me ducks http://t.co/wZ5mTX6q4j

— Mark T. Voelker (@marktvoelker) June 2, 2015
#OpenStack *unOfficial* UnSummit happening in Quenstown, NZ. http://t.co/gMufmy37Hb pic.twitter.com/baDzagGkpB

— David F. Flanders (@dfflanders) June 2, 2015
Cover Image/ by Karen Ka Ying Wong // CC BY NC) // CC BY NC
Latest posts by Nicole Martinelli
(see all)