There's a lot going on in the OpenStack community and it's easy to get lost in the noise. We've collected the top conversations you need to know about this week. From the latest OpenStack resources to news about users, we share the content you need to stay up to date.
"Just as users have been instrumental to evolution of technology behind OpenStack, they have played an important role in the process of documentation, testing and development, as well as the interoperability programs, Bryce said" — Jason Verge quoting Jonathan Bryce in Data Center Knowledge

"Python is a very intuitive language compared to C/C++ which require deep expertise to deliver production level code. Python is much faster to write feature and also has a very fast development cycle, good integration with several database and rest api's, etc which make it a natural choice for OpenStack." — from the CHANGE as a Service blog

"Survey results illustrate that OpenStack and Docker are clear winners of mindshare among open source cloud projects." — Alexander Williams in Linux.com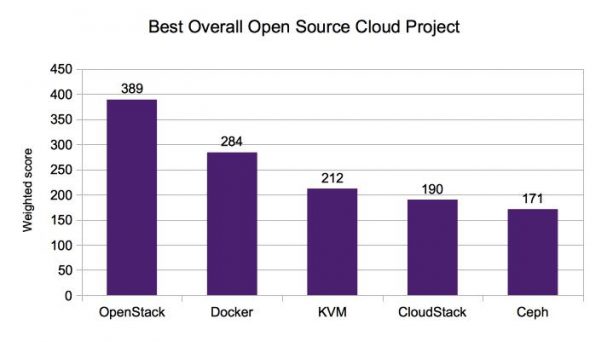 "I think one of the main goals set out four years ago was to have one effective cloud standard. With everybody coming together on OpenStack, I think you find that it has become the standard. What I think is the biggest benefit, as well as opportunity, is the speed of innovation that can happen when people are not arguing over a standard but actually building something." — Scott Sanchez in Linux Insider

"Free and open-source cloud computing platform OpenStack could reach an estimated market size of $1.7bn by 2016, according to a report from analyst firm 451 Research." — Archana Venkatraman in ComputerWeekly
The next phase > OpenStack Barbican, Cryptography for Managing Secrets in the Cloud http://t.co/nkBH0Mqee0

— Alex Williams (@alexwilliams) August 21, 2014
Who are the most influential people of @OpenStack? Let us know, and we'll print them in a deck of cards! Please RT! http://t.co/uvYOv6XbQ9

— Niki Acosta (@nikiacosta) August 19, 2014
I like seeing what skills are in demand. Apple hiring for both @OpenStack and @openshift expertise. https://t.co/BZImmTeVA9

— Russell Bryant (@russellbryant) August 19, 2014
I know times are tough #OpenStack Nova, but I just wanted to let you know I saw this on the way to work. pic.twitter.com/KiRIaeYJrz

— Mike Perez (@Thingee) August 19, 2014
OpenStack Marketplace Now Features Hosted Private Cloud Options http://t.co/tNEJRmtnAP

— Zach Hines (@Zach_Hines) August 18, 2014
#MySQL – Getting my hands dirty on an OpenStack lab – Like you all may know, OpenStack is currently one of the … http://t.co/Y3emaXfVfU

— John Davies (@John_Davies_Tek) August 19, 2014
Finally started kicking the tires on #OpenStack Juno builds. Thanks for all of the hard work the community has into https://t.co/AHjj8ByG4t

— Jake Kitchener (@kitch) August 18, 2014
How Tracking and Billing Can Make Your OpenStack Cloud Better http://t.co/MU1yDjr5sT

— Jon Senger (@jsengeratx) August 22, 2014
We feature user conversations throughout the week, so tweet, blog, or [email us](mailto:[email protected]) your thoughts!
Latest posts by Brittany Solano
(see all)