A cloud native app that provides life-saving portable medical records and a wearable device that measures muscle signals while playing musical instruments are two winning projects hatched in OpenStack Hackathons.
Your bright idea could be next.
OpenStack Hackathons offer participants a chance to learn more about developing applications for OpenStack clouds from experts and put their skills to use by building applications. They launched in 2016 designed as a fast and furious weekend of work that also rewards the best projects with fantastic prizes. (And, if you're not already an OpenStack ace, they also offer free training leading up to the events.)
A Cloud Application Hackathon Working Group formed to help smooth the road to success for OpenStack User Groups around the world who want to host these events.
Superuser talks to Michael Jenkins, co-president, to find out more.
If a user group wants to organize a Hackathon, where do they start?
The first step is to reach out to me ([email protected]) or community wrangler David Flanders ([email protected]) and we can start the process for review and approval of your event. Once your event is approved, we'll share some useful templates and provide guidance on organization.
The general process is:
Idea and interest. So you'd like to positively impact your OpenStack community by organizing an AppDev hackathon?
Let us know. The best way to assist by completing the one-page Interest Form and join our meetings.
Help is on the way. Involve a local or the nearest User Group and global community and key stakeholders.
Create a plan. All great ideas begin with a great plan — we can help with this one.
Getting serious. Let the organizing begin! Now that we have plan, let's dive into the details.
Before the main event. With a few weeks left to go, let's pinpoint any gaps and concerns you may have prior to your Hackathon.
Wrap-up. Now that you've had a successful Hackathon, let's review lessons learned and capture them for future events around the world.
What are the biggest obstacles to organizing an event?
My recommendation is to write a "concept paper" or prospectus. The purpose of the concept paper is to clearly describe the background, overview and objectives of the Hackathon.
The concept paper can then be shared with prospective sponsors and supporters from industry, academia and the community. You then can evaluate the level of support for your event. If the feedback is positive and includes financial backing, hardware, software and integration support, then you can proceed with the next step — creating a project plan.
Create a plan of action (project schedule)
Since a Hackathon can take between four- to six- months to organize and involve more than 100 people, a project plan is a very valuable tool in organizing, tracking and communicating the many detailed tasks that lead to a successful Hackathon. There are many tools on the market that we can recommend and, depending on your particular requirements, we can find one suitable for you.
The general milestones for a project are:
Concept (see above)
Support request, identification and commitment
Design
Organize
Promote
Event
Close-out
Finale
There are, of course, many details that sit underneath each of these milestones — and the Working Group can help fill in the gaps.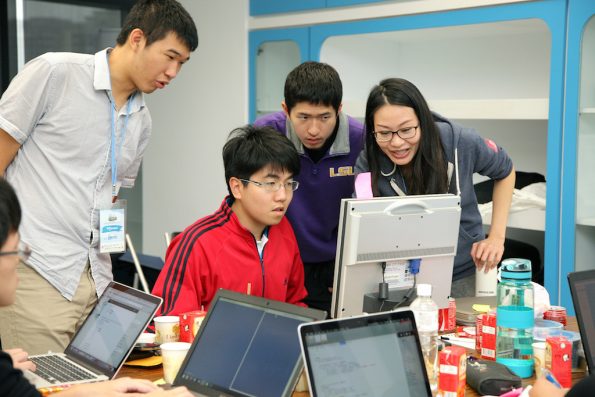 What efforts are made to boost diversity in Hackathons?
This is a very good question and one very close to my heart. Pertaining to gender diversity, we encouraged each team to have at least one woman — at least one of the teams was an all-woman team. For the Taiwan event, we had more than 22 percent female participation and probably a similar figure for Mexico.
My recommendation is to communicate the OpenStack code of conduct at each opportunity and to stress the fact that the most successful teams are the most diverse teams.
We have the opportunity to capture a lot of feedback from these events, such as ease-of-use, learning value, community development, market impact and user participation. The OpenStack UX team has been a great help in this area and will continue to be a valuable contributor to the wider organization of events.
What do you need most right now from the community?
As the level of interest grows for organizing Hackathons, I'd like to see OpenStack User Groups support growth in the areas of peer review, sponsorship support, education and event mentorship and promotion.
How are plans for upcoming Hackathons shaping up?
We are currently planning the following:
May/June 2017, University of Texas, San Antonio, (UTSA) USA, North American OpenStack Community initiated hackathon — Approved.
August/September 2017, Singapore University of Singapore Tech, T-Systems Malaysia, ASEAN OpenStack Community — Under review, pending approval.
TBD, University of London, Birkbeck College, UK Foreign Office, OpenStack Community — Under consideration.
Latest posts by Nicole Martinelli
(see all)