BRUSSELS — Even persistent drizzle couldn't take the fizz out of the Free Open Source Developers' European Meeting, FOSDEM'16.
The freewheeling weekend — there's no registration and you are welcome to imbibe from the lengthy local beer list during sessions — offered up 618 events to over 5,000 people who ducked in and out of the rain on the Université libre de Bruxelles campus January 30-31.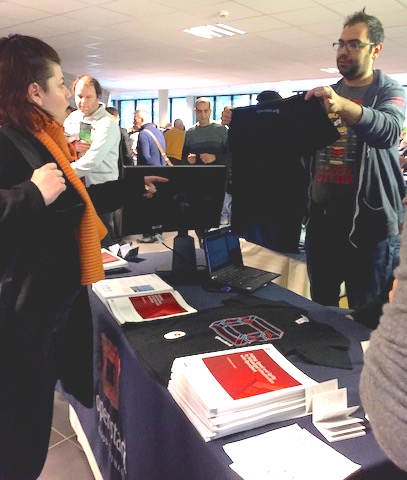 Christophe Sauthier at the OpenStack booth
The OpenStack booth was packed all weekend as attendees grabbed t-shirts (in black or light blue), picked up white papers and talked cloud. They were met by a team of tireless volunteers including Ubuntu developer and Debian contributor Adrien Cunin, European Union OpenStack Ambassadors Erwan Gallen and Marton Kiss, Christophe Sauthier of Objectif Libre and Alessandro Vozza organizer of DevOps Meetup Amsterdam.
"There was a massive amount of people, it was almost hard to move," says Kiss, who came from Budapest for the second year to represent the Foundation. "It was great to be here, it's one of the largest open-source events in Europe."
What were some common questions? "This time I met a lot of new people who had heard something about OpenStack and wanted to know more about the use cases and how they can deploy it," he says adding that while the event attracts many Europeans he spoke to a lot of Americans and even a developer who came from India specifically for FOSDEM. "It's nice to think about the visibility of OpenStack when all those t-shirts go back home with people!"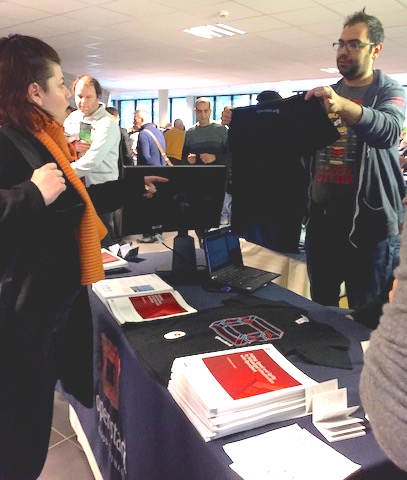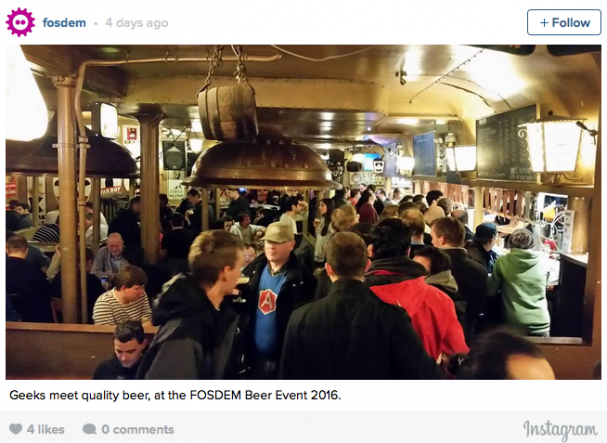 Kiss says he hopes to see many of the people he spoke to at upcoming OpenStack Days in Europe, especially the one he's organizing in Budapest in what may be the coolest venue of them all.
This is how contributing to #Openstack looks like 🙂 #FOSDEM2016 #FOSDEM pic.twitter.com/Uqj2HvV3jj

— Adam Kijak (@adam_kijak) January 30, 2016
OpenStack was also the subject of a number of talks in the virtualization and infrastructure-as-a-service track. They included one from Nova project team lead (PTL) John Garbutt on getting your ideas into OpenStack upstream and evaluating Magnum from DreamHost's Rosario di Somma. We'll have write-ups on these soon, stay tuned!
Cover photo and booth photo: Nicole Martinelli.
Latest posts by Nicole Martinelli
(see all)