As you certainly know by now, Juno is here! The newest release of the OpenStack software was launched last week, with 342 new features and 3,219 bug fixes. The biggest new features include:
Sahara: data processing service for Hadoop and Apache Spark that automates the provisioning of big data clusters at scale.
Updated Swift Storage Policies: this gives users additional control for how they want to replicate and access data across different backends and geographical regions.
NFV support: this is the first release with initial support for NFV, with more to come.
Juno comes right before the upcoming OpenStack Summit in Paris, taking place November 3-7, 2014. By the numbers, the 10th OpenStack release was an impressive one. Over 1,400 unique contributions went into the latest version, with 133 different companies represented.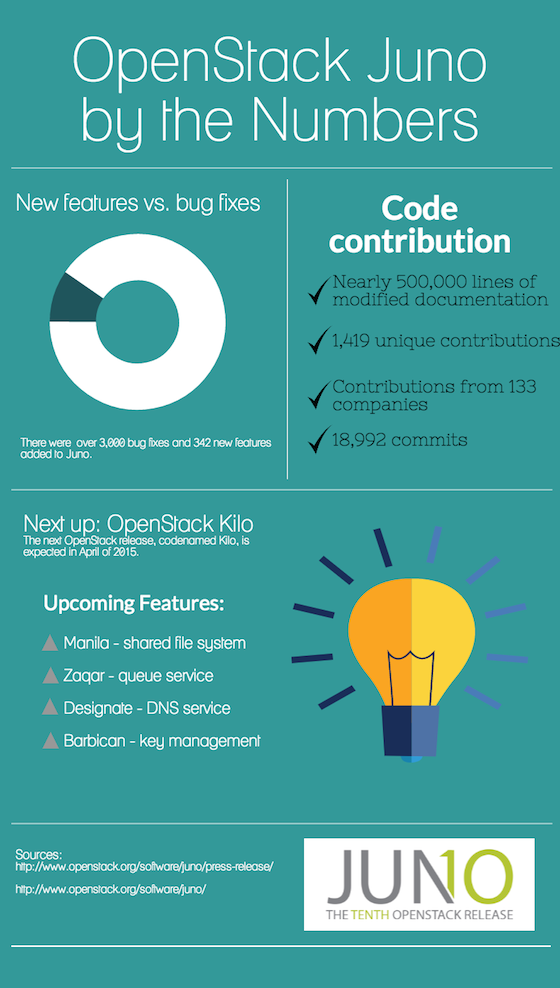 The release was well-received by users and the media alike. We've collected the top reactions, quotes, and thoughts on Juno and what it means for the OpenStack user community. Here's what folks had to say:
>"For [telcos], OpenStack is an opportunity to rid themselves of having to spend tons of cash on expensive proprietary network management technology they buy from the incumbent vendors." -[Data Center Knowledge](http://www.datacenterknowledge.com/archives/2014/10/16/whats-new-openstack-juno/)
Congrats on Juno release to #OpenStack community. Big emphasis on lightning fast cluster computing and Hadoop. https://t.co/VW1OmJfTx0

— Bobby Patrick (@bpatrick001) October 16, 2014
>"…this release clearly shows the fingerprints of OpenStack's users and operators." -[TechCrunch](http://techcrunch.com/2014/10/16/openstacks-juno-release-focuses-on-big-data-network-function-virtualization/)
The #OpenStack #Juno release has landed, right on time as usual! 😀

— Guillermo Alvarado (@galvarado89) October 16, 2014
>"To make OpenStack even more enticing, Juno adds a new solution for Big Data." -[SiliconAngle](http://siliconangle.com/blog/2014/10/17/openstack-juno-adds-big-data-processing-nfv-capabilities/)
>"Juno is distinguished by its growing maturity, with implementers and members of its user community making several additions to ease installation, said Jonathan Bryce, executive director of the OpenStack Foundation." -[InformationWeek](http://www.informationweek.com/cloud/infrastructure-as-a-service/openstack-juno-offers-automated-hadoop-provisioning/d/d-id/1316679)
During the #OpenStack Juno development cycle, our awesome test infrastructure ran 1.8million test jobs, storing & analyzing 18Tb of log data

— Thierry Carrez (@tcarrez) October 16, 2014
Also Read:
Latest posts by Brittany Solano
(see all)