Step-by-step is the way to increase local adoption.
That was the main message of the second OpenStack Day Benelux, says Ben van der Vegt, who wears a number of hats including as the organizer OpenStack Benelux Marketplace, organizer of the OpenStack Netherlands Meetup Group, manager of the OpenStack Netherlands LinkedIn Group and co-owner of Fairbanks NV, organizer of the event.
The one-day event was held September 17 at conference center Spant! in North Holland. This time around some 466 people attended, up from 387 at the 2014 event. Van der Vegt notes that for 2016, the free event promoting OpenStack in Luxembourg, Belgium and the Netherlands will size up to a larger venue. Local flavor was provided with tasty broodje krokets and a performance by improv cabaret group Op Sterk Water.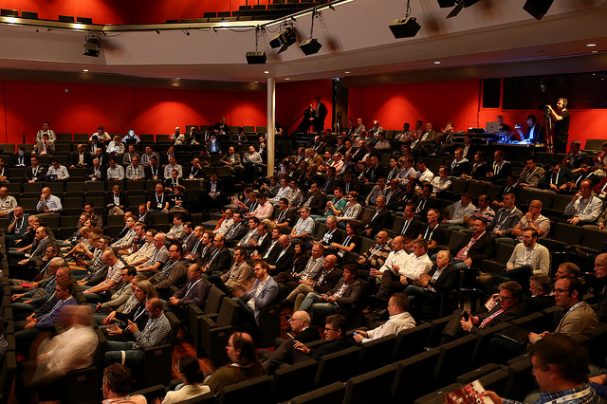 The crowd at OpenStack Day Benelux, photo courtesy Fairbanks NV
The slogan for the daylong event was "OpenStack: the next step" and the keynotes delivered. Monty Taylor, distinguished engineer at IBM, who also sits on OpenStack's Technical Committee, Foundation Board of Directors, Developer Infrastructure Core Team, titled his talk "OpenStack works, who cares?"
For who missed the #OpenStack benelux conference yesterday;here's the story of the best speaker IMHO: http://t.co/aKIrC9yNCk by @e_monty

— Edwin Schouten (@schoutene) September 18, 2015
Ruud Harmsen of Fairbanks' opening remarks set the stage for local companies and local customers sharing how they use OpenStack in production. Van der Vegt says videos of the presentation will be available soon, Superuser will update the post when we get them.
OpenStack Benelux Conference was amazing, visitors can use their giftcard for additional credit pic.twitter.com/EX58PLrOFE (via @FugaCloud)

— Paul Bankert (@paulbankert) September 17, 2015
Regional participants included Nibble IT who provide PostGres professional services, hosting providers Cyso along with their public cloud Fuga.io and Fairbanks NV, an OpenStack consultancy and professional services group. Popular sessions included business and technical tracks led by sponsors including Suse, Canonical, Hewlett-Packard and Red Hat.
@mischapeters talking #cumulus at #openstackbenelux pic.twitter.com/Vjtrf40o6k

— Raymond Kuiper (@RaymondKuiper) September 17, 2015
Get involved now, for next year
To get involved throughout the year, the Benelux Day has ties to these local user groups in the Netherlands. Happenings in The Netherlands, Belgium and Luxembourg are also updated on the events page.
Van der Vegt says goals for the future include working with vendors to develop a strategy adapting the OpenStack message suitable for the local market then striking the right note with a communication campaign.
Cover Photo // CC BY NC
Latest posts by Nicole Martinelli
(see all)