BURLINGAME, CA. — Over 700 people, including several OpenStack community members, global telecommunications companies (telcos) and Foundation staff, attended the inaugural OPNFV Summit.
Jonathan Bryce participated on the keynote Strategic Technologies panel and the Women of OPNFV and Allies happy hour was a great way to meet women and men alike in an informal setting.
OpenStack was front and center at every session we attended. Results of an OPNFV global survey clearly support the project and OpenStack's role in network functions virtualization (NFV). Key findings include:
Over half the respondents said OPNFV is poised to accelerate NFV adoption.
62 percent believe OPNFV will lead to more rapid development.
68 percent of respondents cited OpenStack as very important to the success of OPNFV.
OPNFV is a reference implementation of the European Telecommunications Standards Institute (ETSI) NFV specification. OpenStack is a large component of both OPNFV and ETSI NFV. Almost all telcos, cable companies and enterprises that operate large networks are closely following and implementing NFV from the ETSI spec or OPNFV releases. NFV is of tremendous value for agility and cost reduction.
OPNFV's first release, Arno, is available and includes OpenStack as the Virtualized Infrastructure Manager (VIM). Brahmaputra, the second release planned for February 2016, will update OpenStack to the Liberty release, which includes many NFV-supporting features and related projects.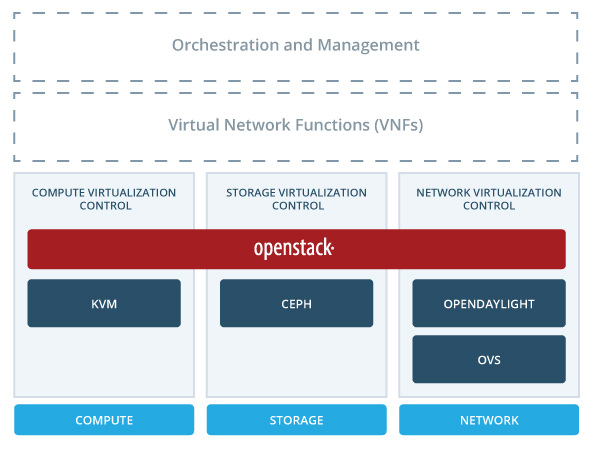 Diagram of the OPNFV Arno release
In scheduled meetings and the "hallway track," the collaboration between OpenStack and OPNFV was discussed, particularly around OPNFV's "upstream first" practice for requirements and development. The OPNFV community identifies gaps, submits blueprints to OpenStack, then works on those blueprints. This expands the number of OpenStack contributors helping meet key telco requirements. The OPNFV contributors are skilled developers that may be new to OpenStack processes and schedules and are welcomed by the OpenStack community!
These are a few of the OpenStack features that were included in Liberty. Features developed to meet telco needs for resiliency, performance and scaling are also valuable to all OpenStack users.
Nova features such as a new API call to mark compute nodes as down.
A new alarm evaluator has been added to Ceilometer to realize immediate alarm notification.
Service function chaining capabilities have been added to the OpenStack Tacker project.
OpenStack users and vendors also bring feature requests to the table, in addition to OPNFV. These Liberty-implemented examples are valuable to telcos and enterprise users alike:
Support for CPU pinning and SR-IOV passthrough in Nova's new extensible CPU scheduler
Improvements in the scalability of Neutron's advanced services
Cells v2 support for horizontal scaling
Improved support for IPv6 in Neutron and Nova
The OPNFV OpenStack Community wiki has been updated for the OpenStack Mitaka release — with the new release schedule, project governance and blueprint process and assistance. Community members from both organizations will advocate OPNFV requirements within OpenStack projects through a streamlined process detailed on the wiki.
We're excited to continue and enhance the collaboration with telcos and OPNFV. NFV will be prominent at the upcoming OpenStack Summit Austin.
Stay tuned for more information and telco NFV user stories!
Cover Photo // CC BY NC
Latest posts by Kathy Cacciatore
(see all)