BARCELONA, Spain — It's said that the world runs on OpenStack, but pinpointing the role and charting the landscape is still a cartographic challenge.
Jonathan Bryce, OpenStack Foundation executive director, got out his map and compass for the day-two keynote. A packed house heard from users taking advantage of OpenStack to build global applications and understand how public clouds, containers and platform-as-a-service frameworks integrate with OpenStack services to create the most powerful programmable infrastructure.
Bigger than Texas
Bryce kicked off the day by talking about two OpenStack projects that push the concept of scale to the limits. Looking into the future (and the past), Cambridge University is helping drive forward the Square Kilometer Array (SKA) project, a software-defined telescope which will allow us to see deeper into space than ever before, exploring the origins of galaxy formation and dark matter, the nature of black holes and exploring fundamental building-blocks of life from extraterrestrial radio signals.
"The Square Kilometer Array is software defined, so the OpenStack components are a vital piece of the scientific instrument itself," Bryce notes. "It's amazing scale, incredible scale."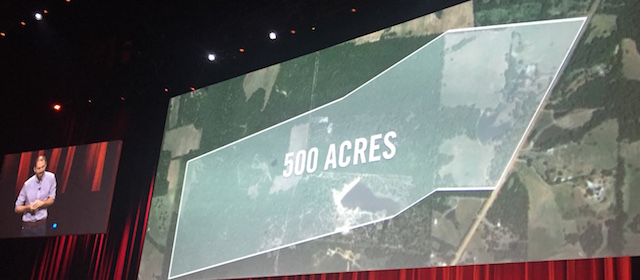 Next he charted the NFV territory — one of the strongest use cases for OpenStack — by talking about the latest news from China Telecom. The state-owned company recently brought two new data centers online covering 2 million square meters — that's five times the amount of land of his Texas ranch. "And it can't be managed like pets but cattle, just like the ranch."
Scale is not just about the number of servers you have but also about the scope of the problem you want to solve, he notes.
Stack diplomacy in action
The Interoperability Challenge served up a live demo of global vendors running the same application and automation tools across all of their OpenStack Powered distributions and public clouds. 16 global companies showcased significant progress in the quest for application portability across a diversity of OpenStack public and private clouds.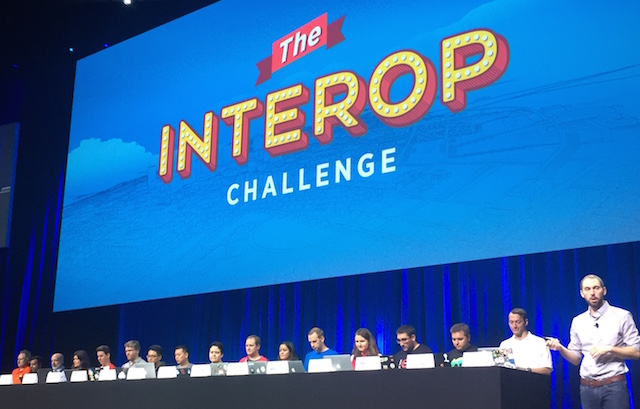 Bryce grabbed a skinny game show-style mic and moved between vendors as they made the magic happen live — though most of them showed no fear of capricious demo gods. "It really isn't that exciting because it works the same for everyone," quipped Craig Peters of Mirantis.
Perhaps the most surprising part about it was everyone playing together nicely. The challenge included competitors such as AT&T, Canonical, Cisco, DreamHost, Deutsche Telekom, Fujitsu, HPE, Huawei, IBM, Intel, Linaro, Mirantis, OSIC, OVH, Rackspace, Red Hat, SUSE and VMware.
"These people don't like each other, right?" Bryce asked IBM's Brad Topol, who headed up the group effort. Topol says that the group worked well together — he loaned the Cisco colleague a dongle, for example — but underlined that when interoperability works, the "real winner is the deployer, the customer."
I'm impressed. And when the jaded analysts are impressed, things are good #OpenStackSummit https://t.co/dhfLvl2xO1

— neB sepeK (@benkepes) October 26, 2016
They all work together in the open, Bryce adds, encouraging the community to see the tools they use at https://github.com/openstack/osops-tools-contrib/
Clouds over Europe
Even as Brexit casts uncertainty over the European Union, OpenStack providers showed their clouds can cover a lot of ground. Elizabeth K. Joseph of OpenStack's infra team joined Bryce onstage for a demonstration of the world's largest multi-cloud continuous integration application.
The OpenStack infra team manages the world's largest CI infrastructure, spinning up two thousand jobs per hour and more than two million jobs over a six-month release cycle. The team operates this system across multiple public cloud providers and in turn has built one of the largest distributed cloud applications and become one of the biggest OpenStack cloud consumers. For the demo, they used public clouds from DataCentred, City Cloud (three regions), Intercloud and Enter — spanning Sweden, the UK, Germany and Italy.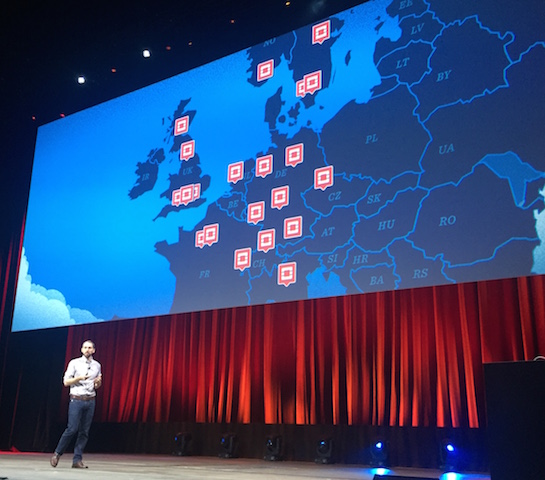 After putting Foundation staffers Jeremy Stanley and Clark Boylan on the spot to approve his review, the changes were approved and merged. "People think open source is scary because anyone can make changes to code but this is really cool," Bryce says.
Claiming a spot Amazon in territory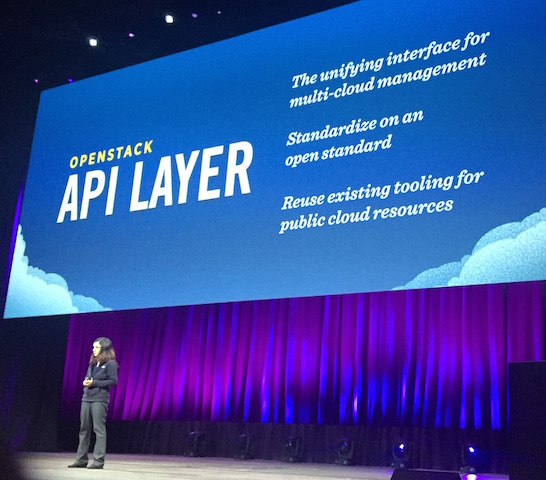 Madhura Maskasky, Platform9 Systems Inc. software developer, took the stage to show off a form of multi cloud that even the savvy attendees probably had never seen before. Maskasky demoed a tool used to push other services, including Amazon Web Services (AWS.) Called Omni, it delivers a single API and pane of glass to manage your public and private cloud.
The drivers are available to download at https://github.com/platform9/openstack-omni
Containers and OpenStack: Here be dragons?
There have been many opinions about whether containers offer an opportunity or a threat to OpenStack. Bryce says they are fertile ground for future contributions; he invited on stage the three project team leads (PTLs) — for Magnum, Kolla and Kuryr, who are defining this collaboration.
"If you go to a public cloud you get their flavor. [With OpenStack] you can have a variety even in the same account," says Magnum PTL Adrian Otto.
Summary: Kolla = #OpenStack components as containers. Magnum = deploy container orchestration engines on OS. Kuryr = overlay networking. 2/2

— Sam Charrington (@samcharrington) October 26, 2016
Bryce says there are three things that make collaboration in OpenStack successful: innovation, collaboration and replication of success.
"Computing pushes us forward. The more access to computing, the more industries we open up," Bryce says. "Computing is a positive sum game."
Latest posts by Nicole Martinelli
(see all)