OpenStack's Community App Catalog launched in May as a resource to help users put their clouds to work faster by deploying tools like big data, platform-as-a-service and container frameworks on OpenStack.
The Catalog is a place where community members can share apps and tools in the form of Glance images, Heat templates and Murano packages designed to integrate with OpenStack clouds.
With just a few clicks, you can experiment with emerging tools like Kubernetes and Docker by deploying packages that leverage the building blocks of OpenStack to handle authentication, networking, multi-tenant isolation and autoscaling.
To find out what's next, Superuser caught up with Christopher Aedo a cloud architect at IBM and part of the team that built the beta-version of the app catalog in just three weeks.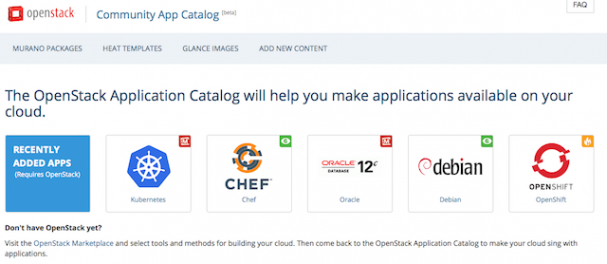 What do people need to know before getting started?
Honestly, they don't need to know anything to get started – just visit
http://apps.openstack.org and check it out!
Since launching in May, are there any statistics on participation?
There was an initial flurry of activity around adding content right before launching at the Vancouver summit, but the number of new submissions has dropped since then. A big piece of this is mainly because the Community App Catalog is still a beta application that was launched as a proof-of-concept, to quickly show an idea of something we could do, a way to showcase what folks can do with their OpenStack clouds. But that proof-of-concept had some limitations we knew we would have to resolve later (remember we built that in just three weeks!)
What are the most used apps?
We are not sure, unfortunately! One of the things we knew we would be solving after launch was how to provide voting, feedback on entries, and easily expose statistics like how many times an individual entry was downloaded.
We are tracking access information (like how many times any page was rendered for a visitor), but that doesn't really translate to how many times an app was used, and doesn't reflect what's really popular.
Is anyone doing something cool that we can take a look at?
Yes! Kevin Fox from the Pacific Northwest National Laboratory has been working really hard on a Horizon plugin that would not only allow browsing the App Catalog directly from Horizon, but has the right hooks to give users a "one-click import" for the assets in the catalog. So you could use that panel to search for something like a Heat template to deploy an app, and with one-click, bring that template into your environment and launch it.
The work is happening in the apps-catalog-ui repo (https://github.com/stackforge/apps-catalog-ui), and an early demo video can be found at: https://youtu.be/2UQ6xa6uDQY
How can people get involved?
At this phase, the thing we need most is feedback and support from some of the other projects. The App Catalog has the potential to benefit not just OpenStack as a whole, but multiple projects individually.
By helping us make the App Catalog the best place to share, find and deliver Apps (and application/service components), it becomes significantly easier for the potential consumers of those bits to find, retrieve and use them. The more OpenStack developers we can get engaged in this effort, the better it will be for the broader community.
What's next?
The next big steps for the Community App Catalog are all around shoring up the foundation to be sure it can comfortably grow both in terms of overall contents and in the size of the active user community. That includes the ability to rate assets and provide feedback with relative ease.
We're also starting to map out what an API would look like to make the catalog itself easier to interact with programmatically. We will also need that to add hooks for using the App Catalog from the command line interface – all of which is to say we are working to make this easily used with and from any Stack cloud!
Interested in getting more involved the Community App Catalog? Attend the weekly meetings scheduled for Thursdays at 17:00 UTC on #openstack-meeting-3_
Cover Photo by Paul Hudson // CC BY NC
Latest posts by Nicole Martinelli
(see all)