Even in what is typically a slower period, the OpenStack community is humming along nicely.
"Although mid-release cycle analysis usually show drops of activity in most areas, the total number of active core reviewers has reached a new peak," says Daniel Izquierdo Cortázar, chief data officer at Bitergia, who crunched the numbers for the quarterly report. This spring there were 339 core reviewers, a 9 percent increase compared to the previous quarter.
As usual for this second quarter, total contributors are down from Q1. However, all three types of contributors tracked — casual, regular and core — increased from Q2 in 2014. Compared to the same period last year, regular contributors are up 15 percent, core contributors are up 7.5 percent and casual contributors dropped from an all-time peak of 667 in Q1 2015 to 601 but increased about 8 percent over the previous year.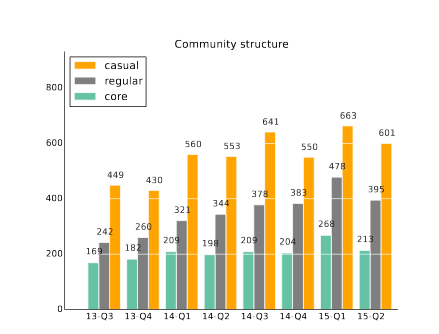 The time-to-merge (TTM) patches for the main projects are in line with the previous quarter – with Horizon and Heat clocking in at just 3 days and the majority of the other projects averaging around 5 days. Once again, however, that trend doesn't extend to Nova and Glance, which have 10-and 7-day TTM, respectively.
While the mailing lists and Internet Relay Chat (IRC) communication channels are growing incrementally, there was a burst of activity on question/answer site Ask OpenStack, up 343 percent over the previous year.

The report also tracks hot community topics, including the most active discussions on the mailing list. In this quarter, they included discussions of stable point releases and how to best communicate with users.
These are the main highlights from the latest OpenStack Community Activity Report, which covers April — June 2015. The quantitative and qualitative assessment tracks actions across all OpenStack Git repositories, Gerrit code reviews, bug trackers as well as IRC channels, mailing lists and Ask OpenStack.
You can read the complete report, including details of the methodology, on the Activity Board repository or take deep dive into the activity of OpenStack individual projects.
Cover Photo by Loizeau // CC BY NC
Latest posts by Nicole Martinelli
(see all)