In World of Warplanes, players soar through the skies chasing each other with Spitfires and Hawker Demons.
To keep those dogfights between thousands of virtual pilots aloft, it takes a special kind of cloud. The free-to-play flight combat MMO and its forums now run on four OpenStack clouds — one each in development and staging plus two in production — powered with Ceph, Fuel, Murano, Rally, Tempest and a set of custom plug-ins.
And that's just the pilot program: Wargaming plans to bring its other massively popular games such as World of Tanks and World of Warships to OpenStack, too. Wargaming is a key client for G-Core Labs, a Luxembourg-based global IT solutions provider, that moved its G-Core Innovations IT infrastructure (DCs) to OpenStack from VMware. Ksenia Prokofyeva, G-Core Innovations project manager, and Ivan Krovyakov, cloud solutions architect, at Mirantis told of the tale at a recent session at the Summit Austin.
G-Core provides Wargaming with more than 20 data centers (consisting of thousands of servers) all over the world. G-Core has a huge and complex infrastructure to provide stable solutions, capable of enduring high loads in multiple time zones. The pair detailed the huge infrastructural move from VMware to OpenStack and described the basic architectural solutions of the project.
The first issue they faced was that the old process looked like a war plan hatched on the back of a napkin. "It was really complicated and the technology stack was huge," Prokofyeva says.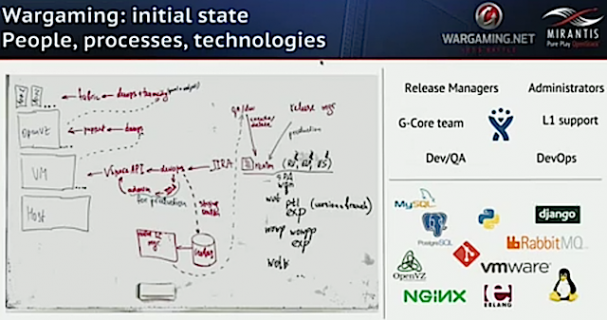 So G-Core allied with Mirantis to craft the right plan of attack. Krovyakov, himself a video game aficionado, says this project is a good example of how an OpenStack project should be done. Mirantis broke out its three pronged approach – assess, build, sustain – to tackle the project The teams from G-Core and Mirantis first worked together to clarify the business goals, then devised a four-step workload lifecycle.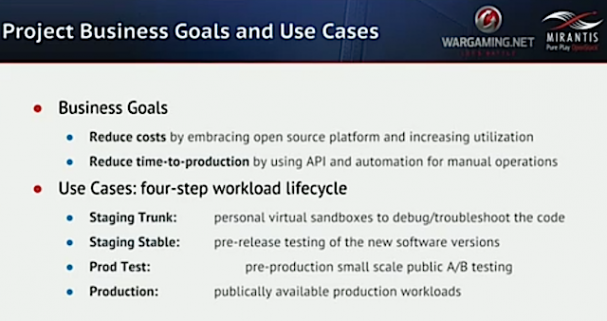 Here's what the resulting build looks like: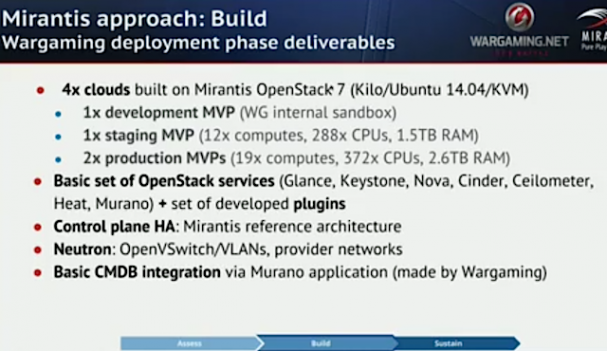 As part of the "build" phase, the troops were rallied for two kinds of basic OpenStack training. The custom-tailored training offered a three-day "vanilla" OpenStack course covering various aspects of running an OpenStack cloud including architecture, best practices, provisioning workflow, component interaction and real-world challenges faced. The second class was a two-day course focused on Mirantis OpenStack extra components namely Fuel, Murano, Sahara and Ceph.
As for the initial results, they were able to reduce the time-to-production, the devops and admin teams were OpenStack enabled, and the devops teams are provisioning virtual environments on their own. They've reduced costs by onboarding to OpenStack with about 100 VMs to date and have started collecting valuable data for capacity management.
"All of our administrators know the system very well now," says Prokofyeva. "Our goals have been reached, our admins are ready," Prokofyeva says. "For me it's really great, I saw the training, it's very difficult material."
As for the broader lessons learned, Krovyakov says "One shouldn't treat OpenStack as a vCenter, it's a paradigm shift. It's not a direct replacement, it's more of a distributed shift."
You can catch the entire 29-minute talk with more details of the project on the OpenStack Summit site.
Latest posts by Nicole Martinelli
(see all)