Low on commitment, high on practicality: that's TryStack.
Billed as the easiest way to try out OpenStack, this free service lets you test what the cloud can do for you, offering networking, storage, and compute instances, without having to go all in with your own hardware.
Dan Radez, whose day job is at Red Hat, unveiled TryStack's new gear in a lightning show-and-tell talk at the recent Mid-Cycle Ops Meetup. Launched in 2012, TryStack now counts 17,638 members who have joined its Facebook group. The free service does come with some limitations — including that instances created on TryStack last 24 hours before the sandbox is wiped clean for other users to play with.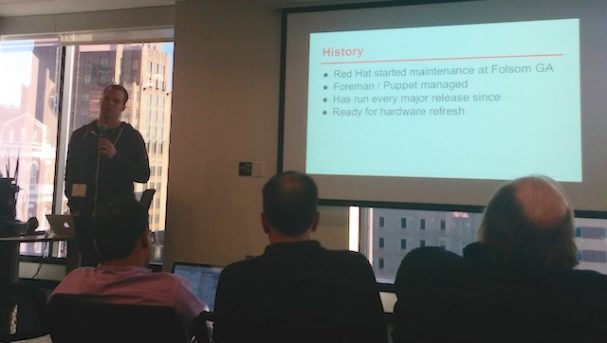 TryStack's set-up must bear the load of anyone who wants to use it, but instead of an equally boundless budget and paid staff, it was originally powered by donated equipment and volunteers from Cisco, Dell, Equinix, NetApp, Rackspace and Red Hat who pulled together for this OpenStack Foundation project.
In the beginning, Red Hat maintained the site with a Folsom release, using the community packages provided by RDO. TryStack has run every major release since and is ready for a hardware refresh, he said. The new gear includes two Cisco 4948 48 port switches and three OpenStack-funded Dell C6105s which Radez showed off in what he dubbed a "gear selfie" that inspired a couple of people to come up after his talk and share their own data center pics.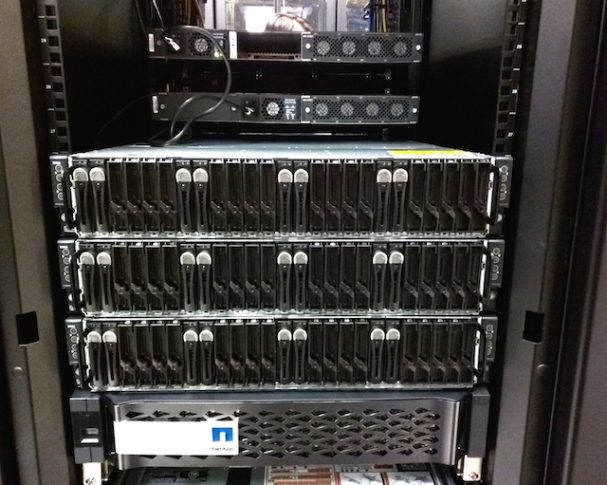 Behold the gear selfie, photo Dan Radez.
"In general, the project is kind of a best effort. We try keep it running, keep it up, and tell people that if anything goes wrong to hold tight," Radez said, walking a packed room through TryStack's upcoming refresh.
In time for the Vancouver OpenStack Summit, they hope to be running RDO Kilo on Red Hat Enterprise Linux 7 and replace authentication tied to Facebook with the OpenstackId Identity Provider. In addition, NetApp donated a Fabric-Attached Storage (FAS) appliance from which they'll install and manage Manila and Red Hat will be donating pipe/power maintenance for more direct control over the servers.
The other goal for TryStack? Find more volunteers to pitch in.
"We want to get more people involved, so there's less downtime and more features," Radez added. "If there's a piece of OpenStack that you'd like to run in 'best-effort' mode, get in touch."
Cover Photo by Jorunn D. Newth; Dan Radez speaking on TryStack at the Ops meetup by Nicole Martinelli. // CC BY NC
Latest posts by Nicole Martinelli
(see all)