The OpenStack Foundation has launched version two of the Certified OpenStack Administrator (COA) exam, the only vendor-independent OpenStack exam offered by the OpenStack Foundation and its training partners. Since establishing the test last year, over 1,000 people have taken the COA, with hundreds more scheduled to take their exams in the upcoming months.
The COA exam is a virtual, skills-based exam that can be taken anywhere in the world on either Ubuntu or SUSE. Version two of the exam, upgraded to OpenStack Newton, went live June 21 and offers new features for an improved user experience.
New features include a rapid question navigation menu and relocation of all exam resources and openrc files to the user's home directory for simplified access. Test takers will also see more messaging encouraging them to use the OpenStack Documentation; after all, part of administration is navigating documentation to solve problems! And finally, given the global breadth of the OpenStack community and COA test takers—from Nigeria to China to Canada to Sweden to Brazil—improved exam speed and simplified question formats will provide a better test taking experience no matter where in the world testers are.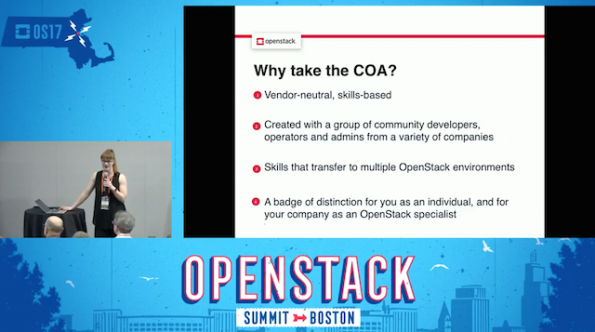 At the OpenStack Summit Boston, Jason Vervlied, a cloud engineer at Ultimate Software, said that the COA is, "an invaluable resource. It shows who's ready and who isn't." While openstack.org/coa recommends a minimum of six months of OpenStack experience, longtime Stackers are also taking the exam to test their own abilities. "In a skills-based test like the COA, you can't guess; you have to have the knowledge to back it up," said Amy Marrich, an OpenStack trainer with the Linux Academy.
Matt McEuen, an associate director at AT&T, emphasized the importance of the new features and upgrade. While not all deployments run Newton, the release update is an important part of the exam's value. "We're really eager to have our engineering staff be fluent in the state of the art of OpenStack. We don't want them, in their own skills, to be a version or two behind; we want them to be up to date."
For newcomers, be it new to OpenStack or students just starting careers, the COA has set them apart. "Coming out of college and not having a lot of cloud experience, preparing for the exam and passing it helped me be successful in my job," Rick Bartra, a developer at AT&T shared.
"For folks interested in a job, it really sets you apart," explained McEuen. "One of the things that is most difficult to understand in an interview is someone's drive and motivation. A certification like this shows that you are willing to go above and beyond. Even beyond the skills that it proves you have—which are incredibly valuable in the employees we are looking for—it also shows that the candidate is really driven to figure out what they need to and be self motivated."
In the year its since inception, the COA has proven its value across roles. For developers, it's the "real need to understand how the code that they're writing fits into the big picture…to be a well-rounded engineer," said McEuen. Barta followed with an example: "Just in troubleshooting, we get production defects, and having taken the exam and having a more broad view of OpenStack, the exam prepared me for this."
Ready to show your OpenStack expertise? Learn more about the COA exam, find a training partner to help you prepare or register for an exam at openstack.org/coa
Cover Photo // CC BY NC
Latest posts by Anne Bertucio
(see all)