Even in tech-crazy South Korea, Nalee Jang is a rarity. The 35-year-old was one of the country's first software coders for OpenStack. She got in early, and that meant blazing the trail for others.
"When I started out four years ago, there were no user guides, experienced engineers, or instructions available," says Jang. "Everything I learned, I taught myself." If going it alone was difficult, it didn't deter her. "I would not give up learning," she remembers. "I worked hard to develop my knowledge."
Jang's hard work and determination paid off – in February 2015, she was appointed senior engineer at Cloudike, where she now manages the installation of OpenStack in cloud storage solutions. She is one of only a handful of women spearheading the industry in Korea, despite the country's reputation for rivaling Silicon Valley.
She also stepped up recently at the OpenStack Summit Vancouver, joining fellow women community members, Shilla Saebi, Rainya Mosher, Elizabeth Joseph, Alexandra Settle and Radha Ratnaparkhi for a panel moderated by Beth Cohen. Sponsored by the Women of OpenStack, the group shared tips on how women can amplify their voices when they are the minority.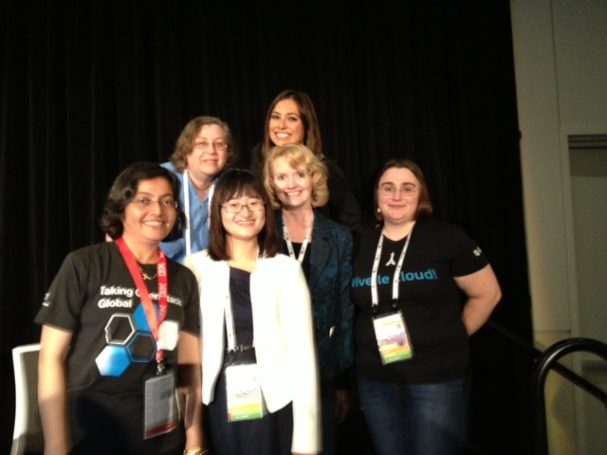 Jang (in white jacket) and the panel at her OpenStack Summit Vancouver session.
"This was my first OpenStack Summit, and during the session, I had the opportunity to discuss the OpenStack Korea user group," says Jang. The user group currently counts around 3,800 men and 50 women. "Almost all of the community leaders are male, but I am a woman developer, engineer and user group leader, so I was happy to share my experiences."
A vital support network
With over 20,000 members in 164 counties, OpenStack is the fastest growing open-source community in the world. At its heart, is a belief in community sharing, and a drive for the inclusion of all – no matter their age, race, or gender.
This is a sentiment echoed by Jang, who, when she was unable to find the solution to a coding problem back in 2011, would turn to her peers, "When I was stuck, I asked the other OpenStack community members for help."
Fast forward to 2014, and Jang released "The Art of OpenStack" which was designed to share her experiences and knowledge with others in Korea now starting out in the field. She was also pivotal in developing the country's first OpenStack seminar, OpenStack Day Korea, held in January of this year. Around 800 participants took part in the event – a huge success considering the virtual absence of the industry in Korea just a few years prior.
To help ease the path for women tech contributors, Jang also mentors young female software engineers.
She has been a long-time adviser to engineering majors at Seoul's Kookmin University, as well as providing career planning and psychosocial support to budding female engineers.
"Working together allows for varied views, insights and the sharing of knowledge." says Jang.
Women like Jang in the OpenStack Community have played a role in bringing more women to the field. They have held workshops including ones at Vancouver OpenStack Summit, which is geared partly as an outreach program to introduce women in technical careers to OpenStack.
Jang and her future with OpenStack
"Our mission is simple," says Jang. "We aim to protect, empower, and promote OpenStack software and the community around it, including users, developers and the entire ecosystem."
The value of ensuring that women are an equal part of this ecosystem cannot be stressed enough, for while there is strength in numbers, there is also strength in diversity. It has been proven time and time again that companies with women on their board of directors consistently outperform those with all-male teams, while gender-balanced companies demonstrate superior team dynamics and productivity.
The road that brought her to Vancouver was a difficult one, but she is content with the journey.
"To go from being one of the only women in Korea doing this to traveling to Canada to speak at the OpenStack Summit – it's incredible," she says. "It's a dream come true."
Cover Photo by
ThomasThomas // CC BY
NC
Latest posts by Nicole Martinelli
(see all)