VANCOUVER, British Columbia — Jonathan Bryce, executive director of the OpenStack Foundation, took the stage to welcome 6,000 of the community's "closest friends" in a keynote with some of the thunder of a rock show.
Attendees, up 25 percent since the Summit held in Paris, streamed into the huge hall on an overcast but temperate day in Vancouver. The two-hour keynote featured updates from users including Walmart, TD Bank Group, Cybera, Comcast and headline sponsors Hewlett-Packard and SolidFire.
Ready for @OpenStack keynote! Amazing foundation staff in the front row. Packed seating pic.twitter.com/pyTIHkIJee

— Rob Hirschfeld (@zehicle) May 18, 2015
About half of the participants to the Summit were newcomers, with developers and project strategists/architects making up a little over half the total attendees. This week, they'll share ideas and best practices in almost 500 sessions ranging from containers to core.
Half of #openstack workloads in most recent survey are classed as production workloads… Up from 1/3 a year ago…

— Paul Miller (@PaulMiller) May 18, 2015
DigitalFilm Tree showed the power of cloud for television and film production with a camera-to-couch demo that blitzed audience footage to Los Angeles for post-production and presto chang-o sent it back to Vancouver. You can read more about how they are using Swift, Nova, Keystone and Neutron to maximize efficiency.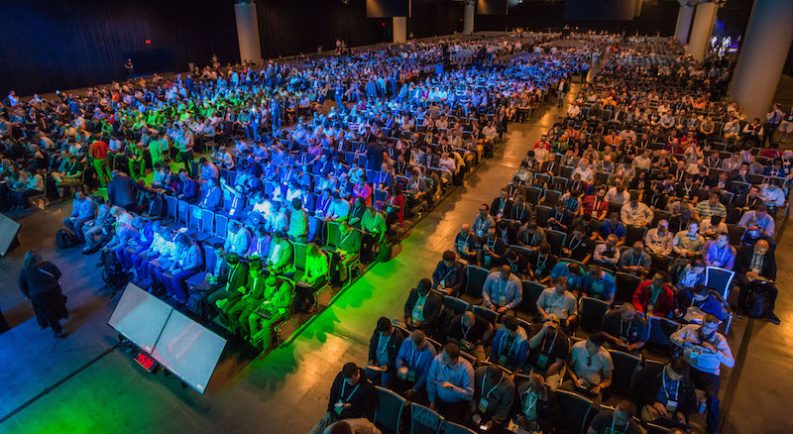 Two milestones in OpenStack interoperability
Meet the OpenStack Powered pioneers: there are 14 companies including public clouds, hosted private clouds, distributions and appliances, that carry this branding. You can find more about them at the OpenStack Marketplace. The OpenStack Powered moniker means that users can now count on these products and clouds around the world to deliver a consistent set of core services.
In the second announcement, a group of OpenStack cloud providers have signed on to support the new federated identity feature in the OpenStack Kilo release, with offerings expected by the end of this year. Identity federation enables hybrid and multi-cloud scenarios with a seamless user experience.
The growing list of companies committed to delivering federated identity currently includes these 32.
#OpenStack Federated identity enables you to find the "best fit cloud" for your workloads with just one credential http://t.co/ptzDRF8Dnh

— Joe Savak (@joesavak) May 18, 2015
Frederic Lardinois of Tech Crunch had this to say about it: "This project is a clear indication of how much the OpenStack ecosystem has grown over the last few years. With only a few players on the market, there wasn't much need for this kind of certification program, but now that the number of vendors who provide some kind of service for the project continues to increase, it's becoming more important to ensure that users don't get locked into a single vendor. That, after all, would be very much against the philosophy of the project."
The announcement created a buzz that kept things humming in later Summit sessions.
Standing room only for #Openstack Federated Identity discussion with @bradtopol @stevebot @blknud

— Brian Hugenbruch (@Bwhugen) May 18, 2015
Robin Winsor, CEO of Cybera, showed off his deployment with a timely reminder: "Stone age didn't end because we ran out of stone."
Next up at #OpenStack summit @robinwinsor With visionary insights from #cybera: 'access to affordable usable Internet and compute for all'

— Bill Mew (@BillMew) May 18, 2015
Hit us with your ideas, people!
ROCKETS during the #OpenStack Summit keynotes! @solidfire https://t.co/Z9uQLdSsdj

— Shari Mahrdt (@sharimarii) May 18, 2015
In the final talk of the keynote, [Solidfire](http://www.solidfire.com) Dave Wright CEO asked the crowd what they would do if storage wasn't an issue. To answer, he was ready to take the heat, in the form of soft rockets that people launched at him on stage.
What would you do if storage weren't a limitation? "Reenact this scene from office space with my SAN" < Great Answer pic.twitter.com/k2Ey3ZzNeM

— NetApp SolidFire (@solidfire) May 18, 2015
Latest posts by Superuser
(see all)