PARIS — Most tech conferences rely on coffee to keep attendees alert, but OVH chairman and founder Octave Klaba picked up a guitar and hammered out a Metallica cover. Klaba then dropped the guitar and returned onstage to kick off the event to a standing-room only audience of 7,000 people, including livestream viewers, to outline the revolution his company is leading.
Innovation for Freedom
Today's explosion of data is fueling a revolution,  Klaba says. OVH is riding this wave by changing their motto from "Innovation is Freedom" to "Innovation for Freedom."  Although they tweaked the shortest word in the slogan, the shift is significant. This subtle change represents a focus on what their customers and their customers' users want to achieve and leveraging open source and their product portfolio to deliver the innovation that continues to open doors and leave them open.
Freedom today is closely linked to data and it's changing everything. This is the great transformation of our century – @olesovhcom #OVHSummit pic.twitter.com/aLGBzyR9Fh

— OVH (@OVH) October 18, 2018
As a first step, OVH has been working closely with their four million clients to learn about their use cases, gather feedback and develop four "universes" that encompass their use cases and product portfolio.
OVH Market
Digital toolbox for companies with 20-30 employees. These organizations need to be able to work better together and work better with their clients. They will have access IP, email services and customer relation management. The toolbox improves productivity and provides a digital workflow.
OVHSpirit
Core of legacy activity. This is infrastructure for people who are into hardware and networks so they have the tools they need to build their private cloud.
OVHStack
This is the OpenStack-powered public cloud intended for dev-ops

—it's an API-driven world. This is growing everyday and while the OVH may be behind the big three in the United States, Klaba says they are catching up. OVHEnteprise
OVHEnterprise is for big companies who need OVHSpirit or OVHStack, but require a much larger scale.
"You can grow your experience depending on where you are in your digital transformation journey," Klaba said. "With the universes, we have the foundation to address the specificities of each partner so that you are successful too." While this strategy is a worldwide initiative, Kalab assured the audience that the execution would remain localized to account for regional legal restrictions.
Klaba turned to the audience and asked if anyone did not see themselves represented by the new strategy. Although zero hands were raised, he went the extra step of putting his email address on the keynote screen to welcome any feedback or concerns.
Retaining the DNA
To connect Klaba's vision for to day-to-day activities, OVH CEO Michel Paulin underscored how the personality of OVH remain constant despite the shift in strategy. He assured attendees that OVH's rapid growth will continue, delivering the best cloud at the best prices.
"Thanks to this DNA, OVH's cloud is different, it's smart," Paulin said as he explained how "smart" was an acronym that represented their innovation-driven approach to cloud that is distributed across 28 data centers worldwide.
The OVH cloud strategy is:
Simple, easy-to-deploy. The four universes allow users to have all of the tools they need to deploy and move applications easily.
Multi-local as OVH has implementations for support in four continents and plus partnerships.
Accessible.
Reversible – your cloud should be flexible and liberated. OVH works with an open cloud foundation to ensure that the cloud is open so that customers have choice.
Transparent: OVH shoulders the responsibility for data – their customers' data and their customers' clients' data.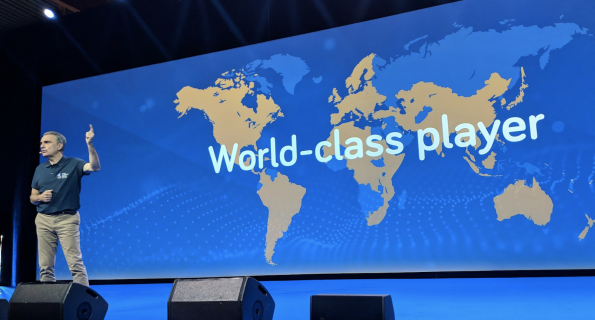 Turning to the audience, Paulin reminded them that this sense of innovation should empower them. "Migrating your apps should not imprison you in an irreversible model," he said.
Turning to their own innovation, he discussed how large-scale water cooling is a strategic initiative that they are investing in, as well as robots in their server building factories and ongoing research and development. OVH has invested 300 million euros (roughly $USD344 million) to continue this growth. He assured the audience that they will continue the growth without losing their DNA, saying that the investment today is the growth of tomorrow.
"The OVH team is mobilized," he said. "With you, thanks to you, we're going to be disruptive. It's going to be seriously, seriously disruptive."
Cool, clear water
Most people know OVH as a leader in cloud services, with a substantial OpenStack public cloud footprint. What they don't know is that OVH also makes their own physical servers – a significant feat that only a handful of companies (tech titans like Google, Microsoft and Facebook) are bold enough to attempt.
Franois Sterin, OVH EVP chief industrial officer took the stage to discuss the innovation behind their hardware, announcing that they have recently produced their 1 millionth server. They also created a new robotized factory to sustain their future server production needs, giving them the velocity required to bring features faster to their users.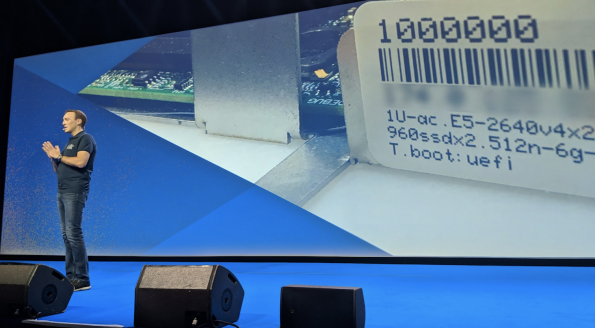 "Our teams are motivated and we are playing on a worldwide stage," Sterlin said.
His proof lies in the water cooling. To create a more efficient energy consumption model, OVH relies on cooling processors with water to overcome the density of heat which is needed even more with use cases like artificial intelligence (AI) and big data which consume an increased amount of CPUs.
OVH really celebrating its watercooling capability for servers. Saying this is needed for increased workloads CPUs and GPUs are seeing, but other cloud players aren't doing it yet. #OVHsummit

— Brian Jackson (@brianjjackson) October 18, 2018
"We just invented autonomous bays, taking the water cooling behind the rack and added cooling doors so the servers are completely independent from the outside environment," he said. "Agility, simplicity – this is all in our model. This is why we are called industrial and not just infrastructure."
"Forever Trust in Who We Are, Nothing Else Matters"
To close out the keynotes, Klaba circled back to the inspiration behind OVH's innovative approach to technology.
When he tells people about his company and his goals, people generally sympathize, but peg him as another hopeless dreamer. It's seen as impossible to competing with giants while being based in Europe.
"Everyday there's a challenge and yes, it's work and it's not always easy," he said. "Europeans need to change the paradigm and change the way we work, not just replicating the US or Asia. Attempting the impossible is not crazy."
Connecting to open source, Klaba discussed how open source is an ecosystem that is based on a sense of trust that cannot be achieved with proprietary solutions.
"A standard belonging to the community will generate more trust than what a proprietary solution can get on the stock exchange," he said. "Here there's momentum and we need to create something and we need to create it together." He went on to encourage the creation of a virtual European giant of the Internet, based on a network of smaller European players linked by trust more than capitalistic ties. People may think this is a crazy objective, but it was definitely crazy to start OVH out of nothing in 1999 and growing it to the giant it is today.
To drive the point home, Klaba launched into a guitar solo and was then joined by the other band members for the only appropriate keynote closing: a hard-charging rendition of  Metallica's "Nothing Else Matters."
#impossible n'est pas fou! –#OVHsummit 2018 Tks Octave!! pic.twitter.com/HozIMortfL
— Vincent Carre (@vincarre) October 18, 2018
Latest posts by Allison Price
(see all)