The OpenStack Foundation is pleased to announce the addition of a community wrangler: David Flanders. You can call him Flanders, just like his friends have since "The Simpsons" debuted in 1989. Flanders brings 15 years of developer experience building open communities and witnessing how the term "open" has evolved. He talks with Superuser about his new position and what he calls his own, personal API methods.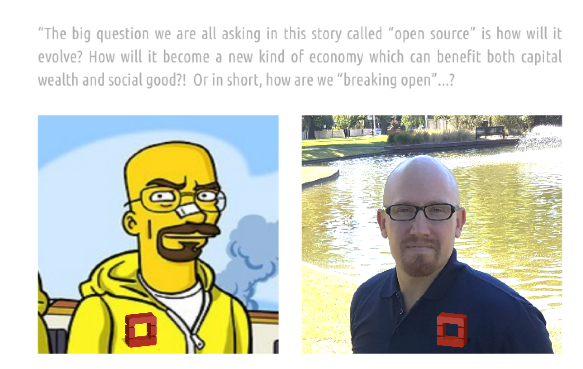 Why are you are excited to be joining the OpenStack Foundation staff?
The amazing intelligence of the developer community, the buzz and can-do attitude of the biannual summits, the international opportunities, the futures the foundation is creating… and so much more! Though, most exciting for me (the reason why I applied for this job) is that the OpenStack community is changing the "open" movement for the whole world.
How so? What does the OpenStack community mean to you?
I've spent my career working to promote open technologies via various global communities, foundations, charities and startup capital; for me, the OpenStack community is a next-generation open community. In the past, old-school open source communities have been exclusive with regards to whom may be "knighted" to participate in the social good of their community. OpenStack is- actively broadening the scope of who can participate in open, which I hope to help push forward as well.
So how is OpenStack different from other open source communities, given your personal history?
OpenStack actively promotes a full ecosystem of partners: for- and non- profit, social good as well as all the other new business models starting to emerge in the digital economy…In my opinion (and I'm intentionally being contentious here), OpenStack has broken the mold for what an open community can do and achieve. The bigger question all us open-do-gooders must continue to ask ourselves is: can we continue breaking 'open' (until it really works) so that open source becomes a dominant economic generator for our sector, and maybe even one day for all sectors? Yes, I'm that ambitious for the power of open!
Can you give us 5 words that describe you and why?
Explorer
I live in Melbourne Australia, I'm American by birth, I'm British-university educated (London hardened), Portuguese in spirit and always eyeing the next passport I should collect.
Of all my degrees, it is the school of cultural education which is most prized to me (other than the teachings of my wife.) Open source is about how the local culture understands it, I want to understand your point-of-view so OpenStack will work for your local community.
Builder (of open communities)
I've previously helped build open communities for: the UK Gov't in 'Open Access' (Research) and Developer Happiness (aka #DEV8D); The Open Knowledge Foundation for 'Open Government Data'; 'Open Hardware' (for 3D Printers) via the #RepRap community and most recently the 'Research Bazaar" (#ResBaz) for 'Open Data Science Skills' in Universities.
Entrepreneurial-minded
While working in the UK, I was able to oversee a multi-million dollar investment portfolio of application developer teams and data-centric startups in Universities for several years. I believe entrepreneurship methodologies/code (failing fast, agile, pivots, etc) are the new de facto business models coming out of our generation.
Polymath
Technology has always been a means to an end for me: that is to say I have had the privilege of working with professors and PhDs in every discipline to try and figure out how better to use technology to improve their R&D. I'd describe my chief joy in life as being an 'eternal knowledge tourist.' I hope that experience is going to come into play as we build the cloud native application ecosystem for all sectors: industry, university, education, government, charities, etc.
Analytically-empathetic
For me, community management is fundamentally about understanding the psychologies of the community. Being with the community and understanding how they view the shared problem: what are the technical decisions (IQ) and what are the motivations of the community for making decisions EQ– it's as much about hacking-the-brain as it is hacking-computers!
What do you feel is the number one expertise you can bring to the incredibly talented OpenStack community?
Over the next six months, I am really looking forward to sitting down with developers and hearing how they experience working with the community. Oddly enough, I really enjoy getting developers to walk me through their code, so I can understand where their code fits within the ecosystem. A developer talking through their code has all kinds of layered meaning: are developers thinking of the code base in similar ways? – are they designing via shared patterns? – are they interested and incentivized to collaborate via the code base? By being a person who really earnestly listens to developers, I can usually help shed light on how we are all working together as a community collective.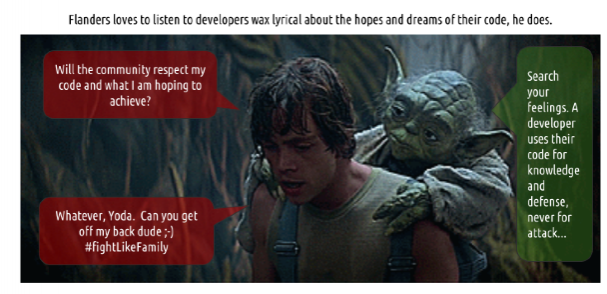 So how do you hope to help the community achieve in the next couple of months as we build to the Austin Summit?
Well, OpenStack moves fast, so my ideas will naturally pivot as I get to work with the community more. Immediately, I'd love to talk with the community about the following:
What does good "cloud app" training look like so we can grow the app-dev community?
What exemplar "cloud native apps" do you envision? What API+SDK support do we need?
How can we work with the University sector to recruit the next generation of cloud app developers (NB remember how Apple in the 90's infiltrated via their education programme)?!
Where should the conversation be taking place about how we grow the application developer community (at the a summit session, via a dedicated mailing list, slack, etc.)?
What are the events which the OpenStack community should be attending to discuss best practice in application development (containers, pods, etc.)?
How can we help our amazing devopps community work with appdev to understand OpenStack as a platform for end user apps development?
I'm going to be taking most of these questions forward via the OpenStack User mailing list, please join me there to continue the conversation: http://lists.openstack.org/cgi-bin/mailman/listinfo/user-committee
I'm sure people will want to get in touch and say "hi" after reading this, how might they do so?
Quickest way to say 'hi-diddly-yo' would be via Twitter @DFFlanders (same IRC nick: dfflanders) Otherwise, all my up-to-date contact details are on the about page of my personal blog and LinkedIn profile.
Cover Photo // CC BY NC
Latest posts by Allison Price
(see all)