Is this your first OpenStack Design Summit?  Unlike most conferences, you're invited to participate and play an active role. But…where to start?
On Tuesday, right after the keynotes there's a session for that. Come to Design Summit 101 at 11:15 a.m. at the Hilton Austin – MR 400.
It's an introduction to the format followed by a lively presentation of the most common situations and how to behave when facing them–a mini experience of the Design Summit. There are various details you should know, including who will be attending, different tracks and goals, which sessions/talks are the most suitable for beginners and how you can participate. This is also your chance to get answers and understand how to get the most out of it!
If you can't make it, or want to jump into the Ops portion of the Summit on Monday, here are some tips to get you started.
Event goals
The design summit is where the Open Design process happens.
It's a collection of tracks where upstream developers gather to discuss requirements for the next release of OpenStack, debate the implementation details and connect with other community members about cross-project issues.
What it is definitely not is classic conference track with speakers and presentations! If you're just starting out, the beginner presentations at the conference will be much more user friendly 🙂
Event structure
The agenda is collaboratively reviewed and then scheduled by the project technical leads (PTLs) for each project.
The main project team tracks are on Wednesday and Thursday, with "cross project" sessions, which affect multiple projects on Tuesday. Feedback from cloud operators is an integral part of the design process, so on Monday the ops summit has the same approach of collaborative discussions.
On Friday there are contributor meetups, where team members from OpenStack projects–from Astara all the way to Trove– sit down together and get things done. Though it might be tempting to go and pester a project team since they're all in one place, these sessions are very important to accelerate the development of the next release, so we ask that the teams are able to work in relative peace from "my cloud is broken" questions 🙂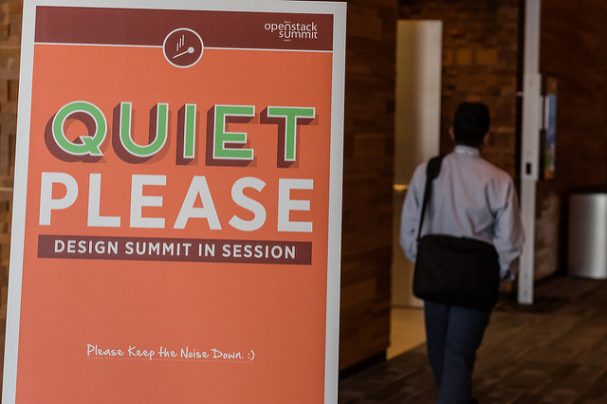 Session types
There are two main types of sessions: Fishbowl sessions and Work sessions, each with their own standard format and protocol.
Fishbowl sessions, with chairs arranged in a circle to enable discussion, are where the big debates happen and broader feedback is conducted. They start with a brief recap of the session topic and a definition of the objective–the best participants in these sessions come prepared with knowledge of the topic. Notes are collaboratively taken on an Etherpad (see logistics), and you can volunteer to take the minutes.
One of the key points to note about this room layout is that the people in the front row are the most active in the discussion: if you have something to add, move to the front.
The session lead is expected to keep the discussions focused and ensure the meeting is inclusive, but not answer all of the questions. When only a few minutes are left, they will to get concrete actions out of the discussion : i.e. X will do Z and record them in the Etherpad.
Work sessions are for team members to make concrete progress on a particular topic, and not for newcomers to ask questions. They are in smaller rooms, for contributors (including newcomers) to make fast/efficient progress to the projects.
Logistics
As noted before, it's very rare to see presentations at the Design Summit. Instead of the usual slides, you'll see an Etherpad, a text document powered by our favorite collaborative text editor. Anyone can edit the Etherpad, and take notes simultaneously – simply open the link in your browser. Each person writing on the document is assigned a color.
If the discussion is difficult to break into, or you don't feel comfortable speaking in public, putting your comments directly on the Etherpad is a great way to make sure you are still heard.
A list of Etherpads can be found at: https://wiki.openstack.org/wiki/Design_Summit/Newton/Etherpads
Rooms at the Design Summit come equipped with microphones, to be used as needed. However, note that there's an important balance between being able to hear to discussion and the speed of the discussion – passing a microphone around breaks up discussion and takes time. Design summit sessions are for active participation rather than watching, so whether these are used will depend heavily on the team–some groups like it, some groups hate it.
Tips&Tricks
Preparation is what is going to let you get the most out of the session. At the very least, read the Etherpad for the session beforehand.
H/T to Thierry Carrez, director of engineering at the OpenStack Foundation, chair of the Technical Committee and release manager for OpenStack.
Cover Photo Shari Mahrdt
// CC BY NC
Latest posts by Tom Fifield
(see all)