AUSTIN, Texas — The OpenStack Austin Summit kicked off day one by awarding the Superuser Award to AT&T.
NTT, winners of the Tokyo edition, passed the baton onstage to the crew from AT&T.
AT&T is a legacy telco which is transforming itself by adopting virtual infrastructure and a software defined networking focus in order to compete in the market and create value for customers in the next five years and beyond. They have almost too many OpenStack accomplishments to list–read their full application here.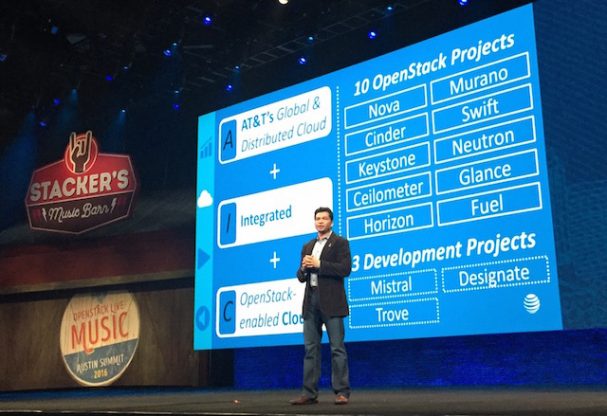 Sorabh Saxena gives a snapshot of AT&Ts OpenStack projects during the keynote.
The OpenStack Foundation launched the Superuser Awards to recognize, support and celebrate teams of end-users and operators that use OpenStack to meaningfully improve their businesses while contributing back to the community.
Interested in nominating a team to be recognized at the next Awards ceremony in Barcelona?
Stay up-to-date at http://superuser.openinfra.dev/awards
Latest posts by Superuser
(see all)